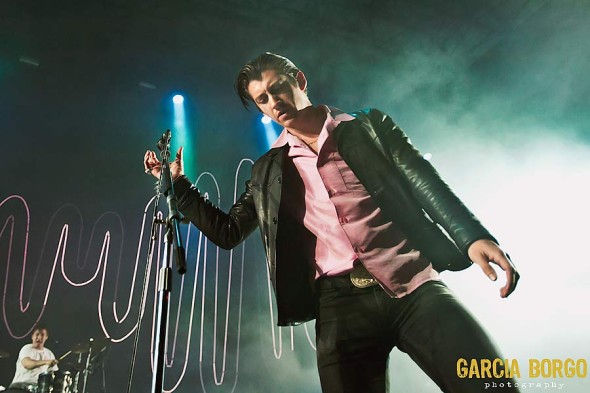 To those who wonder about the state of rock music today, have no fear: it's alive and very well, thanks to Arctic Monkeys.
Frontman Alex Turner, wearing a button-down pink shirt and a slick leather jacket, had all the right moves to set young hearts on fire — including swaying hips, swagger across the stage, and smooth talking. He's a rock god in the making.
Arctic Monkeys' stage design was very simple — just a varied version of the cardiac lines that appear on the cover of their 2012 album, AM. Who needs a fancy backdrop or elaborate visual effects when you have such raw talent and energy?
The quartet started off its set with megahit "Do I Wanna Know," and followed up with "Snap Out of It" and a scorching version of "Arabella." Turner introduced the latter song by saying, "San Diego, last time we were here I don't know if we had the pleasure to play this song about a girl named Arabella."
Before "Don't Sit Down 'Cause I've Moved Your Chair," Turner took of his jacket, which caused teenagers in the audience to erupt with confessions of true love. In his very deep voice, Turner said, "You're making me feel good, San Diego. This one is for all the girls." The band then launched into "I Bet You Look Good On The Dance Floor."
When Turner introduced "No. 1 Party Anthem" by saying "This is a love song," everyone took out their cell phone lights and lit up the Open Air Theater.
More than a few young hearts went pitter-patter that night.
Photos: Arctic Monkeys at SDSU's Open Air Theater