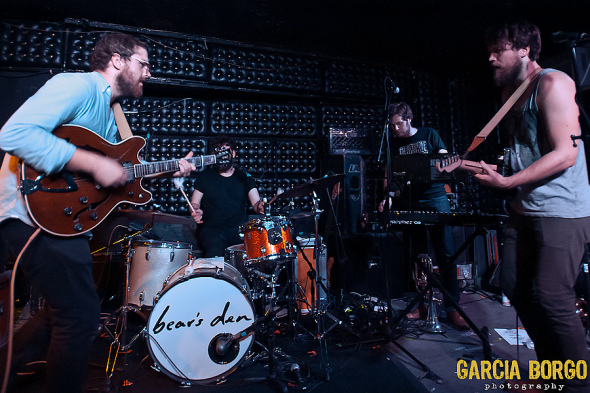 English folk rock sensation Bear's Den headlined a showcase of international bands at the Casbah on November 9.
Having just released Islands, their richly layered and produced new album, Bear's Den had a lot to live up to. It was clear from their first song, however, that the band's tightness and spot-on harmonies were no studio trick. They sang together so perfectly that when I closed my eyes, I imagined myself in some stone walled cathedral somewhere in the distant past. Bear's Den is a young band, and it was great to see them on their first visit to San Diego. The small crowd was quiet and respectful, and I was surprised to hear so many people singing along to a band that is so new.
Bear's Den played every song off Islands during their set. For their encore, they stepped offstage into the middle of the crowd and performed an magical, acoustic rendition of "Don't Let the Sun Steal You Away."
Veteran rocker from Vancouver Dan Mangan and London's Christof opened for Bear's Den. Mangan's voice is one the most recognizable in alternative music and it was great to hear him live. Despite not having his normal bass or guitar player, he did bring along a trumpeter who looped and manipulating his sound with strange pedals.
When Christof took the stage with his acoustic guitar and harmonica, the crowd didn't seem to expect much. However, when he started singing, everyone turned to the stage with rapt attention. Christof's voice soared out from the speakers and washed away any Sunday blues that might have been lingering. Christof is someone we will hear again.
Photos: Bear's Den at the Casbah

Dan Mangan