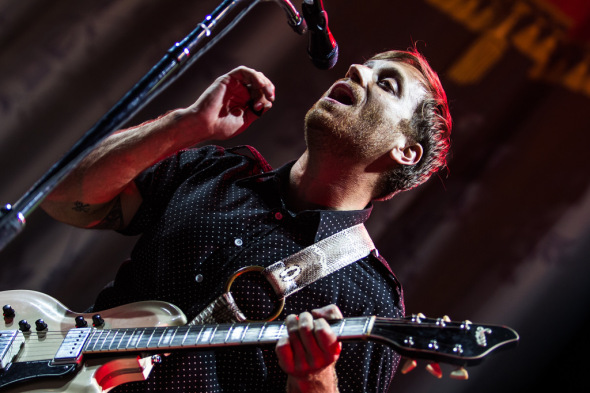 I remember the time I first purchased The Black Keys' Thickfreakness more than ten years ago. I loved this band from Akron, Ohio, but had assumed that a group without a bass player would remain a niche act.
I had assumed incorrectly. The duo of Dan Auerbach (guitar, vocals) and Patrick Carney (drums) skyrocketed to fame following the 2010 release of Brothers. In the live environment, a backing band now rounds out the Black Keys' sound and elaborate lights, video screens, and backdrops provide a spectacle for fans to enjoy.
The energy for The Black Keys inside Viejas Arena was palpable and infectious. The band started with El Camino's "Dead and Gone," then immediately launched into "Next Girl" and "Run Right Back." With instantly recognizable singles like "Gold on the Ceiling" and "Howlin' For You," little more was required of Auerbach and Carney than to plays the notes.
The inclusion of early track "Leavin' Trunk" and Edwyn Collins' "A Girl Like You," helped keep things interesting, but a slight lull happened mid-way through the twenty song set: all of the extended guitar solos and loose drumming had left the audience a bit disengaged. Finally, Auerbach snapped the crowd out of its funk by proclaiming "You're amazing, San Diego! I really mean that! Help us out with these songs if you can!"
Now given a job, the re-energized fans supplied Auerbach and Carney with handclaps for "Fever," whistling for "Tighten Up," and intense pogoing for "Your Touch." "San Diego, you have one more chance! Show us what you got!" Auerbach demanded before leaving the audience on a high note with "Lonely Boy."
Fans waiting for the encore waved their cellphones in the air, transforming Viejas Arena into a night sky filled with twinkling stars. The Black Keys returned with three songs, starting with a pair of Turn Blue tracks as a massive blue and magenta hypnotic spiral (taken from the album artwork) revealed itself on stage. The night ended with an extended version of "Little Black Submarines" with a campfire sing-a-long as fans took the lead on vocals for Auerbach. The song's final, flashy crescendo was a dazzling and satisfying way to close out the night.
One may not find any spontaneity in the Black Keys' setlist these days; the song choices and position vary little from night to night. While we can't go back to the intimate club gigs of days past, The Black Keys still deliver an entertaining package for the masses. At Viejas Arena, the band's sound was impeccable. The lighting and visuals punched up every song without feeling like overkill. And it's always clear that with the Black Keys, musicianship is the main focus. This is what keeps fans returning again and again.
20-year-old old English songwriter Jake Bugg opened. With two albums under his belt and a third on the way, Bugg is definitely doing something right. Influenced by The Beatles, Bob Dylan, and Oasis, Bugg crafts his "folk n' roll" with a confident dose of swagger. "Two Fingers," off Bugg's 2012 self-titled debut, nicely showcases his nicotine-soaked vocals and swaying pop melodies, while newer material from his latest, Shangri La, gives way to some bonafide rockers.
Photos: The Black Keys at Viejas Arena

Jake Bugg