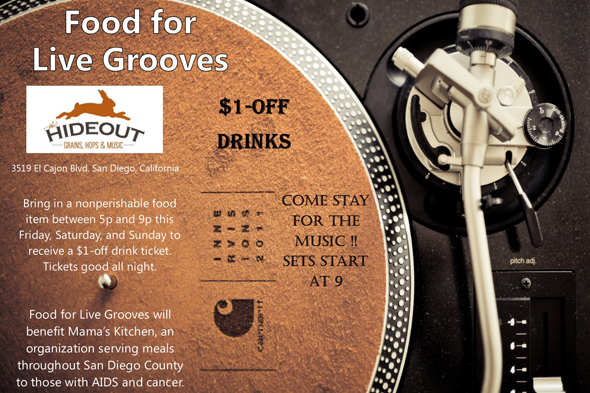 The holidays are frequently referred to as the season of giving. There's something about all the yuletide cheer in the air that stirs the generous sides of our natures. That generosity can take the form of buying gifts for loved ones or, even better, donating to the less fortunate.
Of course, charity can be its own reward. But when that charity pays you back with alcohol, well let's just say that's the type of do-goodery we at Owl and Bear can really get behind.
If booze-soaked selflessness gets your toes a-tappin' too, you'll want to head to the Hideout this weekend for their "Food for Live Grooves" drive. The promotion — which runs from 5pm-9pm this Friday, Saturday, and Sunday — is being put on by San Diego Young Philanthropists and will benefit the Mama's Pantry program of Mama's Kitchen.
All you have to do is bring in a non-perishable food item for donation, and in return you get a $1-off drink coupon. Only one coupon can be used per drink, but there's no limit to how many food items you can exchange for drink coupons. Just make sure you trade in your food items between 5pm and 9pm, and then your drink tickets are good all night. That's a pretty naughty incentive to be nice.
For the uninitiated, Mama's Kitchen delivers meals at no charge to men, women, and children living with AIDS or cancer who are vulnerable to hunger. They deliver meals all over San Diego County and also provide pantry services and nutrition education. The Mama's Pantry program is for HIV-positive people who can cook their own meals but cannot afford to purchase food on a regular basis.
If you're looking to wash down those discounted drinks with some entertainment, the Hideout has you covered. Friday night will feature the spinnings of Hip Hop Roots San Diego, Saturday has The Heavy Guilt frontman Erik Canzona and his band The Narrows performing, and Sunday features readings by NOW That's What I Call Poetry at 5pm and Pants Karoake with free Luigi's pizza at 9pm.
Alcohol, music, karoake, pizza, and helping the less fortunate? That's a lot of great reasons to head to the Hideout this weekend. We hope to see you there.