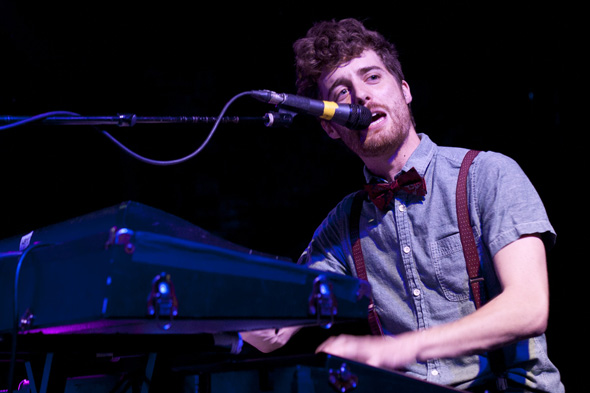 If it was redemption that Jukebox the Ghost were looking for in San Diego, then surely they found it Monday night at Soda Bar.
According to an interview with Hannah Lott-Schwartz of SoundDiego, when the idiosyncratic pop band last played in America's Finest City, lead singer/pianist Ben Thornewill came down with bronchitis and lost his voice in the middle of the set. This resulted in what Thornewill described as "one of his worst shows ever." Playing to a meager audience created a sense of intimacy that sparked an impromptu Jukebox the Ghost karaoke session.
This time around, the show sold out — on a school night no less — and Jukebox the Ghost were at the top of their game as they played to the packed-wall-to-wall venue. Their contemporary blend of feel-good lyrics and skip-along melodies included songs like "Sound of a Broken Heart" and "The Great Unknown." Those with a low threshold for movement to music certainly caved in and cut loose.
Twin Forks, the folksy Americana band based out of Nashville, Tennessee, also played to the full house in their second opening set at Soda Bar. The charisma of lead-singer Chris Carrabba has no doubt drawn plenty of Dashboard Confessional fans to his latest project's catchy acoustic roots melodies. Flanked by mandolinist Suzie Zeldin of The Narrative, Twin Forks impressed fans with songs from their eponymous LP released last year. They also treated show-goers to an array of covers including Violent Femmes' "Blister in the Sun," Steve Earle's "Galaway Girl," and Dashboard Confessional's "Carry this Picture."
Secret Someones opened the show with solid rock beats and strong, often-three-part female harmonies. With choruses that were easy to follow, sing along with, and rock out to, the band caught the attention of the night's more punctual attendees. To repeat Ingrid Michaelson's description of the group, "They're like Weezer, but with boobies." Male drummer aside, it's an accurate assessment.