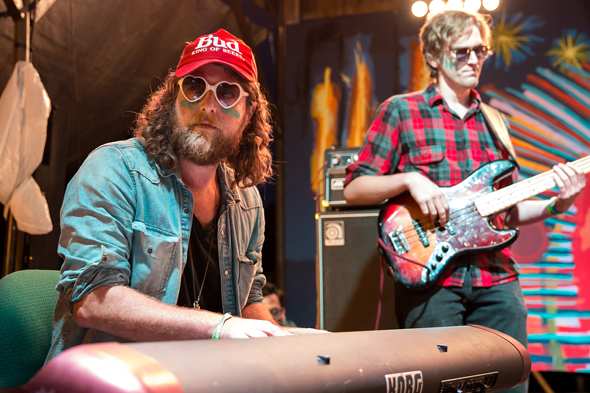 The energy was high and the venue was packed as Goodnight, Texas opened a sold-out show at the Casbah on Saturday night.
Named for the sleepy town that marks the midpoint between songwriters Avi Vinocur of San Francisco and Patrick Dyer Wolf of Chapel Hill, Goodnight, Texas are also the fusion of Vinocur and Wolf's respective backgrounds in garage rock and acoustic folk. The banjo/mandolin rock band featured Appalachian-inspired bluegrass tunes with marching beats reminiscent of a 1930s chain gang telling sorrowful tales of life and love with poetic lyrics.
Desert Noises took it up a notch by combining garage rock with good ol' Southern rock. The frequent headbanging and solos on guitar, drums, bass, and even tambourine drew solid cheers from the crowd. As lead singer Kyle Henderson capered across the stage, it became evident that Desert Noises are the type of band that has a seemingly endless fervor when it comes to performing. Goodnight, Texas and Desert Noises kindly showed opener solidarity by sporting each other's merch, and Desert Noises rounded out their set by inviting Wild Child onstage for a hoedown jam session that readied the crowd for the main event.
Indie-folk band Wild Child were in top form as they entertained the full house with several tracks from their albums Pillow Talk and The Runaround. Standing barefoot on stage, lead singer/violinist Kelsey Wilson captivated with her smooth, soothing, bird-song voice. She and Alexander Beggins led and inspired multiple singalongs to the popular "Crazy Bird," the heartfelt "Silly Things," and the whirlwind "Cocaine Hurricane."
Things slowed down a bit when Wild Child told fans to partner up with the person next to them for a slow dance, reminding them to "save room for Jesus" as they performed "Darling Divine." While many heeded the band's request, some opted instead for a group huddle with nearby strangers, swaying to the lullaby in hippie fashion as each person in the group entered the circle to display their solo interpretive dance moves. More singalongs ensued with "Stitches" and "The Runaround" before the emotional "Left Behind" was performed.
Wild Child graced their audience with new music before wrapping up, then catered to fans calling for one last song by inviting Desert Noises, Goodnight, Texas, and even members of the audience to help them sing "The Tale of You and Me." The result was a memorable finale that bid "until next time" to San Diego in rounds of the culminating lyrics, "Sleep good and hold tight. Just know that I'll make it right."