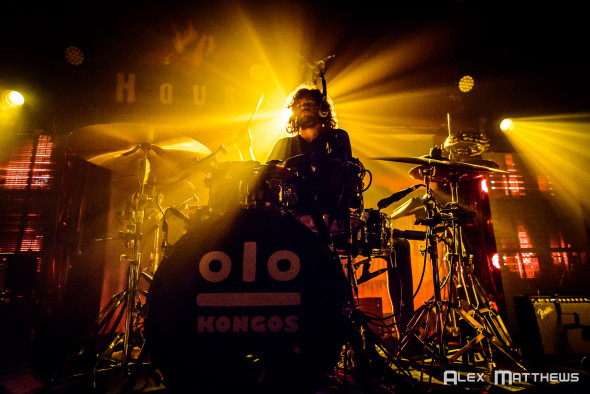 South Africa's Kongos brought their unique brand of rock to San Diego's House of Blues on March 9. Riding high on a wave of success from their instantly recognizable single "Come With Me Now," the group drew a large and diverse crowd to the downtown venue.
In a story that sounds like it was made up for a rock documentary, it turns out the four brothers who make up the group (Dylan, Daniel, Jesse, and Johnny Kongos) are all sons of another famous musician, '70s singer-songwriter John Kongos. And despite a home base in Arizona, the band's multicultural heritage is evident in many of its songs. As one concertgoer put it, "I found out who they were when I Googled 'that rock band that has accordion.'"
Kongos put on an entertaining show, playing many cuts off their 2012 album Lunatic, including their newest single "I Want to Know". It being their first US headlining tour, the band spared no expense on their elaborate stage show, which was quite impressive for the smaller size venue. Massive LED screens sat behind the band and played a variety of visuals that included family pictures, flags, and psychedelic imagery based on each song. All the while, tons of moving lights and smoke effects flashed across the stage.
The brothers deserve a certain amount of respect for attempting a Beatles cover in the middle of their set, which can be a very dicey decision. But a long, jam-band rendition of "Eleanor Rigby" was a highlight thanks to its sprawling guitar solos and impressive drumming.
The aforementioned, hugely popular single "Come With Me Now" — a mainstay of commercials and sports events all over TV — was fun to hear live, not so much for the song itself but to see how crazy it made the audience. The massive group singalong almost drowned out the PA and couples danced all over the floor. In a music landscape with so much repetition, it's really nice to hear music that's unique reach that level of cultural saturation. Kongos have clearly found their niche.
Photos: Kongos at House of Blues San Diego