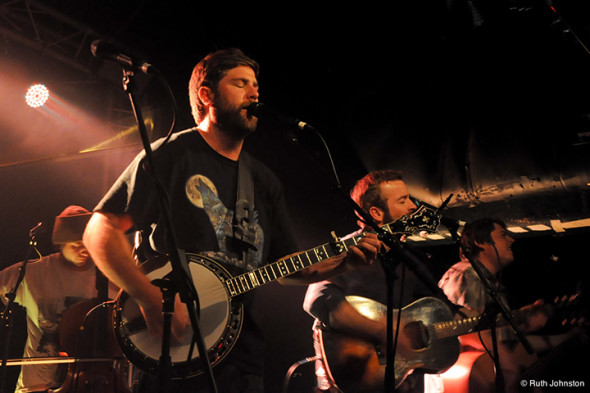 If last Thursday's sold-out Trampled by Turtles show at the Observatory North Park was any indication, San Diegans are just as enthusiastic about boot-stomping bluegrass as anyone from the band's native Minnesota.
The show opened with "Lucy," a plaintive plea from the group's newest album, Wild Animals. With its slow, quiet riffs and bare vocals from frontman Dave Simonett, "Lucy" was a teaser for what the audience really came to North Park to see — the band's trademark accelerated set, with speeding sounds that seem to careen right off the stage.
But if audiences expected blistering bluegrass, what they received was something else. Thursday's set relied heavily on the new release, with Trampled by Turtles playing nearly every song from Wild Animals. And the album — and therefore Thursday's performance — demonstrated a new direction for the band: one that is slower, more polished, and more harmonies-driven, but lacking the grit and unpredictability of the band's previous seven albums.
New songs such as "Wild Animals" and "Hollow," while haunting and lovely, at times became repetitive in their volume and tempo. Despite the large open venue, the songs' warm harmonies were more reminiscent of sleepy campfire music than barn-burning bluegrass (with the notable exception of the fast-paced composition "Come Back Home"). Yet Simonett's vocals, usually the weak link in a Trampled by Turtles performance, proved better than ever, mournfully projecting the ache that accompanies these sad and slow songs.
But as usual, the true strength of the show came from the technical skill of the band, which included men on guitar, fiddle, mandolin, banjo, bass, and stand-up bass. The band shone while playing older songs like Palomino's "Wait So Long" and "Help You." Here, the energetic and technical prowess of these performers was on full display — particularly in Ryan Young, whose fingers and bow flew dizzily across the fiddle.
Those fast, upbeat songs also electrified the audience in ways that tracks from the new album did not. If Trampled by Turtles are able to recapture this coiled energy in their future material, perhaps their performances will rouse audiences instead of leaving them wishing for more of the band's signature speed and skill.