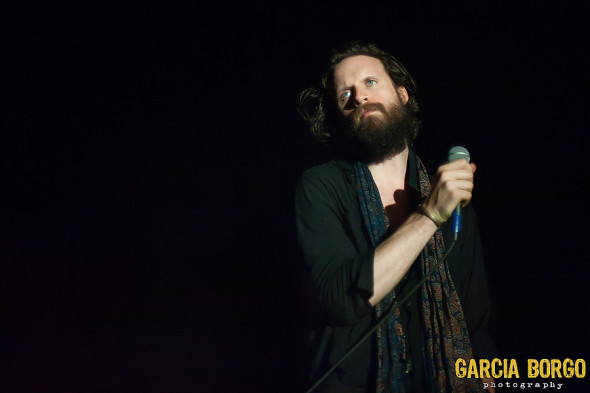 Father John Misty played to a packed house at the Observatory North Park on Thursday.
Touring in support of his new album, I Love You, Honeybear, Father John Misty — whose real name is Josh Tillman — and his six-piece band sounded even better than on record — with more emotion and way better dance moves.
The newlywed Tillman opened the night with a parade of typically smart and funny love songs, which culminated in a brief dance cameo with his wife during "Everyman Needs a Companion."
The Maryland-born singer seemed more comfortable than ever in his role as leader of a rock band; his gyrating dance moves set the crowd on fire. (He surely would have been banned from the Ed Sullivan show for inciting salacious thoughts.) This was not just a concert, it was a performance — with Tillman climbing atop the drums multiple times, venturing out into the crowd, and even writhing on the stage floor. The crowd ate it up.
When the first set ended, the band left Father John Misty alone onstage to deliver an intimate solo performance of "Bored in the USA," and the song's poignant social commentary seemed to hit home with the crowd. Following this delicate moment, the band returned and brought the show to maddening climaxes with songs like "The Ideal Husband" and "I'm Writing a Novel."
Overall, Father John Misty put on a rich, rewarding performance and ended the night by stepping into the crowd to sign autographs and shake hands with fans. As if in defiance of the music industry and the alienation of our digital world, Father John Misty made a deliberate connection with everyone there.
Vermont's King Tuff opened the show. Also touring to support a new album, singer/founder Kyle Thomas and his band seemed to be having the time of their lives — with giant smiles, electric guitar lovemaking, and gratuitous use of smoke machines. King Tuff's sound is definitely a modernized throwback to the 70s, with a heavy influence of T. Rex. Catchy, rocking, and fun, King Tuff's performance was one to not miss.
Father John Misty at the Observatory North Park

King Tuff