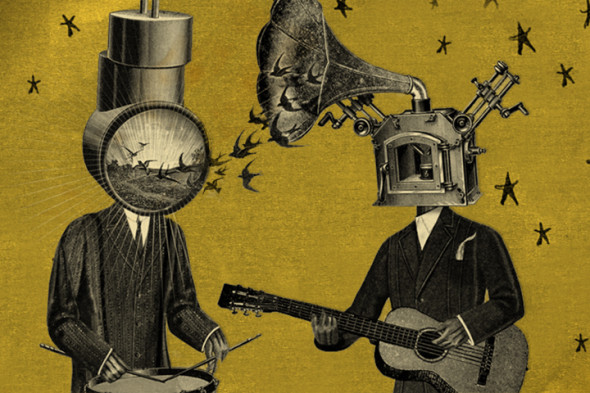 Despite only ever releasing two full-length albums — and none in the last 17 years — Neutral Milk Hotel have left an undeniable impact on indie rock.
When you make a mark that powerful and then go on hiatus for years, the void left behind (along with an increasingly ravenous fan base) only grows larger. Bands like Deer Tick, Rock Plaza Central, and even The Decemberists have done their best to kept the spirit of Neutral Milk Hotel's music alive, but nobody has really achieved the same push-and-pull between chaos and discord. Nor would we necessarily want them to.
As nice as it would be to have them back in full-band mode again recording new albums, at least they've shown new signs of life via a healthy dose of touring the last couple of years.
At the North Park Observatory last Thursday night, Neutral Milk Hotel played a damn fine set of music to a sold out crowd. As reclusive as Jeff Mangum is reported to be, he didn't seem entirely uncomfortable as a front man. It also helped that his multi-talented band mates each brought their own style and prowess to the stage.
The most striking character visually — and maybe even musically — was Mr. Julian Koster, who stood at center stage directly to Mangum's right. When he wasn't playing guitar or any of the various horns or other instruments he picked up throughout the night, Koster whimsically waved his arms to and fro and sang along to almost every lyric Mangum belted out. It was hard to watch him do his thing and not grin from ear to ear.
With extended versions of old songs, the band pushed the music to new places before the inevitable melodies kicked back in. This made for all-new highs that the audience happily rode while singing along and dancing throughout the night.
Ending the set with one of their more somber songs, "Oh Comely," the musicians left the stage to enthusiastic applause. But before the fervor had a chance to wane, the band returned for a three-song encore.
Neutral Milk Hotel's San Diego show was a lovely evening filled with many beautiful musical moments. It looks like this will be their last tour for the foreseeable future, but who knows? Maybe they'll hit the studio and put some of that excitement on tape to fill the void they left so many years ago.