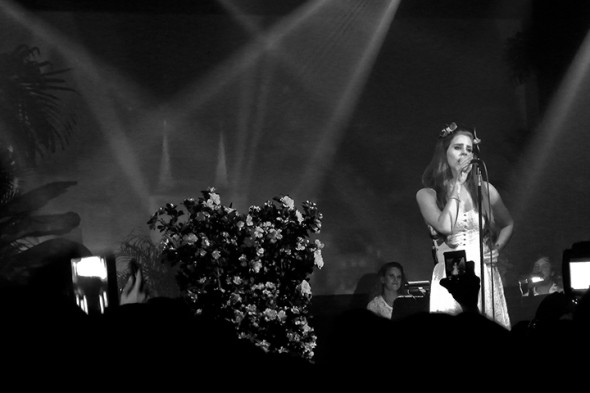 Enigmatic singer-songwriter Lana Del Rey put on her red dress and enthralled fans in San Diego last Saturday.
LDR kicked off her "Endless Summer" tour earlier this month to showcase her third album, Ultraviolence. The stakes were high as some wondered if the concert might be cancelled due to weather, as happened a few weeks prior on the tour in Texas. The sold-out venue welcomed show-goers, some of whom had waited upwards of six months after purchasing tickets to see LDR perform live. With a set list that also drew from her previous albums included covers of Leonard Cohen and Jessica Rabbit, LDR sent fans into rapture.
As she stepped out on stage in her "little red party dress" between a silhouetted cityscape, a time-lapsed scene of clouds moving across the sky looped on the backdrop while side screens captured close-ups of Del Rey throughout the event. She opened with "Cruel World" from Ultraviolence, a song that can be described as surreal, seductive, and dangerous.
After singing "Cola" from her album Paradise to blooming flowers on the backdrop, Del Rey took a reprieve to ask, "I'm not backstage anymore, may I have a cigarette?" One properly lit up, she continued with "Blue Jeans" from Born to Die.
During her first time singing "West Coast" on the tour, the artist encountered some issues and stopped a few stanzas in to do a sound check on stage. After starting again, LDR delivered a rousing performance. As a loop of white water ocean tide meeting the sand played on screen, Lana rocked and swayed to the chorus, "Move baby, move baby, I'm in love" as if she were stranded out to sea amongst undulating waves.
The crowd sang along to the entirety of the anthemic "Born to Die." Del Rey drew considerable cheers as she sang the original, unreleased version that included the line "Come and take a walk on the wild side / Let me fuck you hard in the pouring rain."
Other highlights included the controversial torch song "Ultraviolence," "Summertime Sadness," — another hit whose lyrics evoke her "red dress" — and a seated acoustic cover of Leonard Cohen's "Chelsea Hotel no.2," a song Cohen always dedicated to Janis Joplin.
LDR took several breaks to collect bouquets and flower head wreaths from fans. At one point she went down to the pit to sign autographs, take photos with fans, and kiss them on the mouth. One person had to be carried away after they appeared to have fainted.
Del Rey went on to perform "Serial Killer," a song recorded in 2012 but not released, though leaked on the interwebs; "Video Games," the song that gave rise to Del Rey's stardom; and jazz standard "Why don't you do it right?" — originally recorded as "Weed Smoker's Dream" in 1936 but perhaps better known as Jessica Rabbit's song in the film Who Framed Roger Rabbit?
After performing "Off to the Races," LDR graciously thanked fans and remarked, "The closer I get to home, I can just feel it." She then spent several minutes picking up flowers and gifts thrown to her onstage before exiting stage center into light breaking through fog. The band played on after she left, building up to a much anticipated encore, but she never came back.