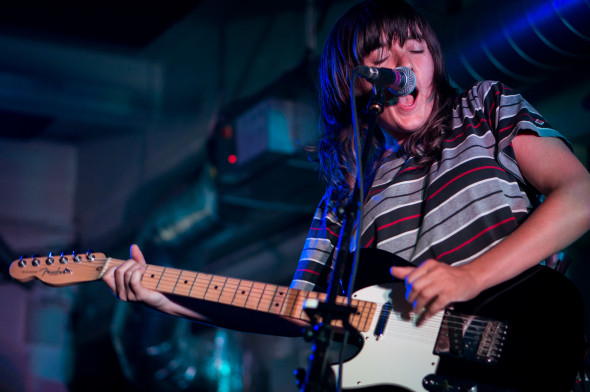 Greeting us from Queensland, described as "the Arizona of Australia," Darren Hanlon engaged the audience with comical anecdotes and mischievous melodies. With charming, down-to-earth, honest lyrics, Hanlon writes the kind of songs that one might sing to intimate friends while roasting marshmallows under the stars on the rooftop of an urban jungle.
Hanlon's set list varied as it incorporated several songs from his previous work. After warming up with "Title Fight: Heart v Mind," a song about wrestling with twitterpation from 2000's Early Days EP, Hanlon later performed the quirky "Punk's Not Dead" from 2002's Hello Stranger, a song about living with a punk rock roommate: "And at night the house is quiet/ You might wonder why/ But punk's not dead/ She's just gone to bed." Hanlon also entertained fans with the thoughtful "Elbows," a song about a brush up with a famous actress, from his 2006 LP Fingertips And Mountaintops.
In between older favorites, Hanlon included tracks from his LP released back in March, Where Did You Come From? A morbidly humorous crowd-pleaser titled "The Chattanooga Shoot Shoot" told Hanlon's true story about getting shot at while riding a bus from Athens to Nashville. Of the anecdote one audience member remarked, "Cool story bro," to which Hanlon responded without missing a beat, "It's all good. It was a bit of a cultural exchange."
Grrrl band Chastity Belt pleased show-goers with their grungy surf rock straight from Seattle. Featuring long, mellow riffs and Vitamin D-deficient rainy-day lyrics, Chastity Belt are Millennials fulfilling Gen-X stereotypes while keeping the dreams of the '90s alive with a hint of feminist flair.
Chastity Belt played several tracks from their sophomore LP released this year, Time to Go Home. The songs captured the inner world of 20-somethings, lost and wondering what it's all for. "IDC" (which stands for "I Don't Care" for those of you not up on your text speak) asked "Is it cool not to care?" while "On the Floor" revealed "I'm never satisfied / Keep feeding myself lies."
The presumably eponymous track "Lydia" named for guitarist Lydia Lund probed, "What is real? / It's what I feel." The group finished with "Time to Go Home" and "Joke," which picked up a little bit compared to the rest of the set while still droning out, "Nothing serious / Everything a joke / When we smile / It's all in smoke."
All the way from Sydney, Courtney Barnett took her place stage right to bring us her distinctive DIY garage meets folk music with psychedelic infusion. Barnett only recently debuted her first full-length, Sometimes I Sit and Think, And Sometimes I Just Sit, this year. But that EP has already received considerable praise for Barnett's stream of consciousness style and intuitively humorous lyrics that capture observations of the mundane. Few artists are able to fabricate stories that are simultaneously about something and nothing. And yet with her art, Barnett reminds us that each person creates their own meaning in life no matter how meaningless it is in the end.
Barnett opened with the easygoing "Lance Jr." from 2012's I've Got a Friend Called Emily Ferris EP and "Elevator Operator," complete with a chorus singalong. "An Illustration of Loneliness (Sleepless in New York)" prompted a cute couple to dance, spinning each other amidst the audience.
With a bass-heavy, lengthy intro, Barnett turned up the reverb for "Small Poppies," where the blue lighting created a dream-like ambiance. Barnett riffed freely on her guitar, head flung back looking up past the ceiling, getting higher, and brought all of us with her to the next level.
We clapped along to "Dead Fox," a song that lends itself to smart postulating environmental commentary, and "Avant Gardener," a song from her 2013 EP How to Carve a Carrot Into a Rose about how a lazy Monday turns in to a near brush with death due to an allergic reaction while in the garden. It's classic Barnett: taking us from the banal to existential with no fuss except the shrug of her shoulders.
Other notables for the night included "Kim's Caravan" — which ramped up the shoe-gazing with grinding guitars and blurring lyrics like, "Don't ask me what I really mean / I am just a reflection / Of what you really wanna see / So take you want from me" — and "Pedestrian at Best," a crowd-favorite that read like a confused, passive-aggressive internal monologue as it chiseled its way toward self-projecting clarity.
Barnett returned to the stage for a two-song encore and, after "feeling a lot of pressure," sang a heartfelt cover of "Heavy Heart," a torch song "you hold hands to" by Aussie alt-rock band You Am I. The set closed with How to Carve a Carrot Into a Rose's popular "History Eraser," after which "we all went home winners of a kind."