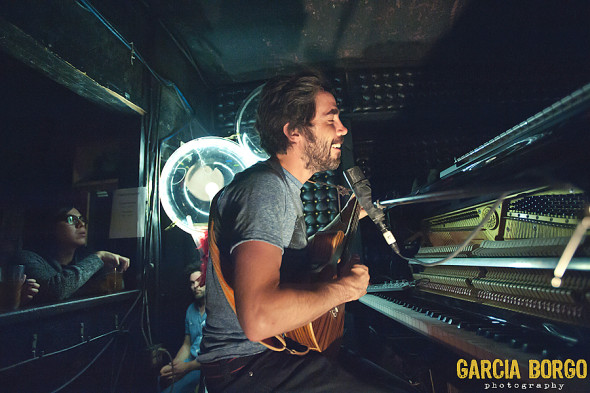 As I was waiting in line at the Casbah to see Patrick Watson, I saw the man himself jauntily skipping to the door while whistling a little tune. 
Watson had a smile from ear to ear, and as I said hello to him he said it right back without missing a beat. He spent a good while before his set speaking with excited fans beneath the San Diego sky. It was so nice to see a musician so accessible. I knew then that he was a good dude.
Turns out Watson and his band were one of the best live acts I've ever seen.
Patrick Watson is not just the singer himself but the band as well. Joe Grass (guitar), Robbie Custer (drums/percussion), and Mishka Stein (bass) are musicians of the highest order. They produce a very informed, experimental sound.
Watson and his crew of talented musicians made more than just music that night; they made a connection with the audience that's hard to explain. As Watson and his band played through their set, one had the feeling that they were playing one long poem being told in the most sincere and eloquent of ways. This is the same sort of feeling that comes across in his albums; they're one big testament to all that is beautiful.
It brought me back to when I first heard his work about a year before: I was driving home from Los Feliz and I saw the sky ahead of me in the distance filled with bright flashes of light. As I got closer, I realized it was fireworks. When Patrick Watson's music crescendoed, the grand finale kicked in.
That night at the Casbah, something similar happened. During their encore, the entire band came out onto the packed Casbah floor and played "Into Giants," of my favorite songs from Watson's 2012 release, Adventures in Your Own Backyard. The audience triumphantly sang along to harness the magic of the evening and in that moment everything was right with the world.
Villagers, made up of Connor O'Brian (singer, guitarist) with two touring band members, were the perfect opening act. Lush, simple songs with warm harmonies set the stage for a night steeped in wonderfully crafted songs. What a wonderful night it was.
Sylvia Borgo contributed to this review.
Photos: Patrick Watson at the Casbah