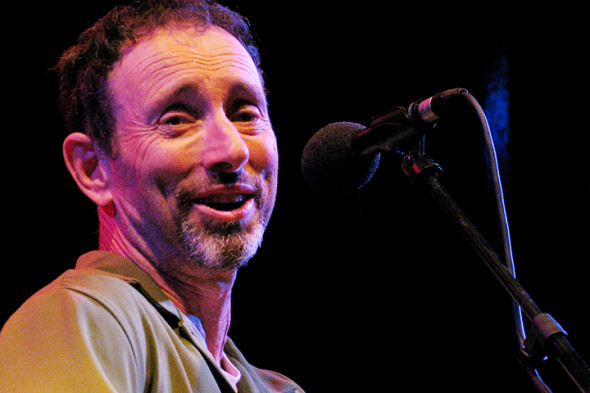 At 23 bucks a ticket, Jonathan Richman isn't exactly gouging fans to come see him. Maybe that's not necessarily his call, but a quick look at his 2015 tour dates shows that, from San Diego to Pittsburgh, he's playing small, interesting venues. For a rock legend, this is a subtle approach. It's so common to see bands shilling revival material for "I have to see them before they die!" prices that it's refreshing any time an artist bucks the trend.
One reason for this may be Richman's conversion from deadpan punker to bohemian folk-singer in the mid 1970s. This happened so quickly, to such a meteoric talent, that when Bowie, Iggy Pop, Joan Jett, The Sex Pistols, or any of a hundred contemporary bands cover The Modern Lovers' proto-punk anthems, it sounds like an elegy. But lest the artist be overshadowed by his work, Frank Black (of The Pixies) issues a soft reminder in "The Man Who Was Too Loud":
Johnny's not a poor man
No, he never gets him down
Now that he is free he is not proud
He don't need the power
Just to make a sound
He is not the man that he used to be
Oh, no, the man who was too loud.
Richman's June 16 show at the Belly Up felt like a $23 show, in all the right ways. Forget the stadium seating, forget the merch and "I'm a Roadrunner!" bumper stickers, forget the hype. Richman came on stage with just an acoustic guitar and backup drummer (long-time collaborator Tommy Larkins). In his white striped Parisian t-shirt, he flirted with the audience, and sashayed, and dipped to one knee as he performed. He was beatnik Groucho Marx, droning for eight measures, then stopping short, spinning his (strapless) guitar, and then sliding into a new tune.
During the performance he played maybe half of the percussion instruments that were arrayed behind him on a table, always with an air of total spontaneity. One minute he was strumming, the next plucking, and then as though waking up from a doze he lifted his chin, eyes large, and made a grab for his sleigh bells.
"I Was Dancing in a Lesbian Bar" was probably the standard of the night, and Richman reprised his 1993 performance from Late Night with Conan O'Brien down to the footwork. He deals in pared-down folk tunes, absolutely unpretentious even when singing in any of half a dozen non-English languages. The word that comes to mind watching him is "infectious." He shows an eagerness to please that draws in the audience until they're sashaying, dipping along, and maybe just a little freer than before.