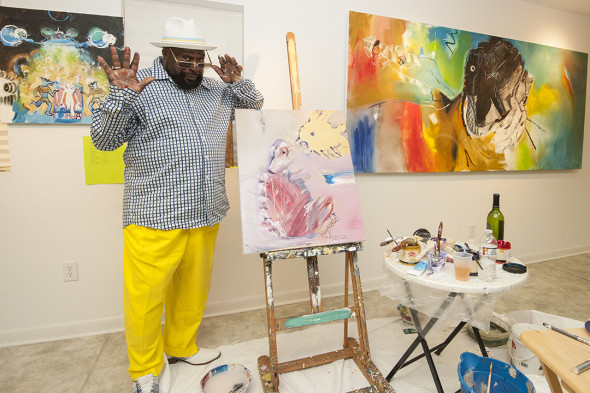 George Clinton may be turning 75 next month, but the funk pioneer certainly isn't showing any signs of slowing down. In the past two years, he published his memoir Brothas Be, Yo Like George, Ain't That Funkin' Kinda Hard On You? — which candidly chronicled his hard-partying life and challenges securing royalties for his music — and released a new Funkadelic album of 33 songs, First Ya Gotta Shake the Gate.
Currently on a global tour, Clinton brings his 22-piece (!) Parliament-Funkadelic band to the Belly Up's tiny stage on June 23. "We've been playing the Belly Up forever," he says. "It's one of the examples we always use: If we can get all of us on the Belly Up stage, we can get on any stage!"
The tour just started on Memorial Day weekend at the Summer Camp Music Festival in Illinois and will run through September. In July, the band is heading to Europe, China, and Australia. Clinton plans to celebrate his milestone birthday in Holland. "I'll be in Amsterdam, probably partaking," he says with a chuckle.
Clinton has been funkin' things up since 1955, when he formed The Parliaments. Through the years, his bands have assumed various names, from Parliament and Funkadelic to Parliament-Funkadelic and the P-Funk All Stars. Collectively, Clinton's family of funk boasts a discography of 141 albums and more than 40 hit singles. He also had a hit with "Atomic Dog" as a solo artist.
Today, Clinton is enjoying somewhat of a resurgence, thanks in part to his affiliation with rising funkateers Kendrick Lamar, electronic music producer Flying Lotus, and Little Louie Vega, half of the production team Masters at Work. In fact, Lamar and Ice Cube appear in the new video remix of the single "Ain't That Funkin' Kinda Hard on You?" from Shake the Gate.
Clinton believes the cross between funk and electronic dance music, like Europe's Rudimental and DJs who are playing that music in the clubs, is leading the new movement. "That seems to be the new style of funk that's coming in—that dance funk."
Along with the rest of the world, Clinton has been mourning the loss of Prince, his longtime friend and music collaborator. "He was my boy. We were really close," he says solemnly.
The two often helped each other along in their careers. In fact, Clinton advised Prince on how to fight for the rights to his music, something he was also battling at the time and continues to do today. "I'm the one who told him all the stuff that I was doing. He just added more energy to it and did it so much better. He did everything that I should have done. He did it perfectly and got his masters back. We have more songs out there than anybody, and I don't get one penny from any of the streams of royalties."
In addition to addressing this struggle in his memoir (he cites page 379 in nearly every interview), Clinton created a website as a public forum, and he is currently working on a documentary that will tell the story "so people can clearly see what's going on."
The documentary will carry the same name as his book and is due out by the end of the year, along with a new Parliament album called Medicated Frog Dogs. Explaining the title, Clinton says, "You see all the medicine ads on TV and all the different side effects — you take a pill for the pill you took, you know?" and then adds, "I can't say who all's on it, but it's going to be a really star-studded album."
At the end of the day, it's always about the music and the way it makes people feel. When Parliament-Funkadelic takes over the Belly Up this month, Clinton says matter-of-factly, "We want everybody to break their booties. One booty ain't enough."
But what would happen if he looked into the sold-out crowd and noticed somebody wasn't dancing to "(Not Just) Knee Deep" or "Flash Light?" Without hesitation he answers, "Oh, that's illegal! That's offensive! That's sacrilege! But see, we'll make your booty betray you. They might not be dancing, but one of those cheeks is gonna be shaking involuntarily."