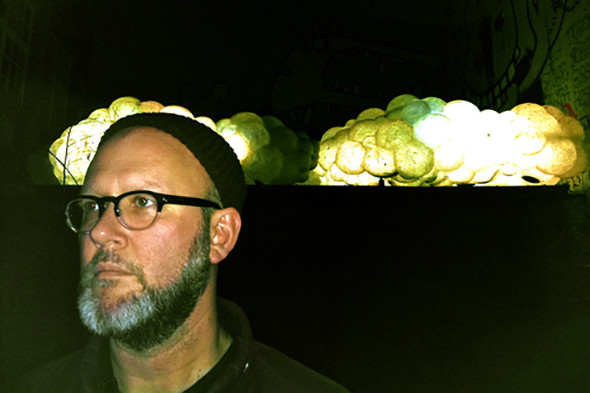 North Carolina indie rock icon Eric Bachmann and local dark country crooner John Meeks played one hell of a show at the Soda Bar last Sunday night. The show marked the end of a short tour in support of the artists' respective new albums. Upon hearing their newest offerings, it's not immediately apparent what these two very different yet vastly talented songwriters have in common.
Bachmann's newest, self-titled album is an astute, lush, and celebratory piece of work that rarely ventures into dark territory musically. It sounds like catchy piano-based gospel music, where instead of celebrating the idea that there's some sort of order to the seemingly awful chaos of life, we could instead be taking solace in that chaos and finding ways to live honorably and compassionately within it. It is a masterful collection of songs tinged with doo-wop, '60s pop harmonies (Ã  la Pet Sounds), and a polished pedal steel guitar anchoring it to Bachmann's influences growing up in the South. It is a blending of genres that ends up sounding progressive yet traditional; a dichotomy expressed with a clear voice throughout the record.
Meeks' On a Sea Darkly — which will have a release show at Soda Bar on July 30 with Pall Jenkins — is a very different affair altogether. The album sounds like a departure with its funky spaghetti western bass lines and farther-out-than-ever wizardry from the endlessly talented Matt Resovich. But when you write songs with a narrative that powerful and distinct, any new direction you might choose only acts to further expand that world. Meeks is a musical auteur, and any excursion into his vividly dark, alien Western ghost towns where the pavement meets the sand is a voyage to anticipate. But celebratory and life affirming it is definitely not. On a Sea Darkly asks you to stay a while and bask in the desolation and beauty of its darkness.
As different as these guys sound on their new albums, the similarities live were on full display at their Soda Bar show. The biggest among them was the aforementioned wizardry of Resovich as he played both sets with each band in their entirety. His setup of keys, melodica, lap steel guitar, and all sorts of other cool sounding shit exaggerated the similarities between the bands and overall added something that was much more than the sum of its parts. The yearning and plodding drumming of Tom Peart combined with the concise yet groovy bass playing of Jon Kruger acted as a strong foundation for Meeks' vulnerably wavering vocals and Resovich's abstracted explorations. There seems to be a lot more space written into these new songs, and it feels like the Meeks band is ready to evolve as a live act because of it.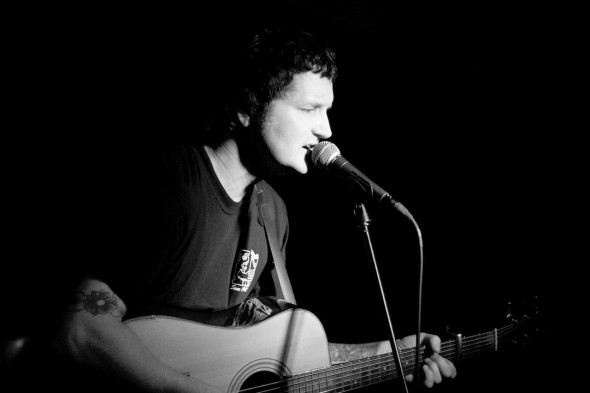 Per usual, Meeks' set ended too soon, but as the crowd gathered closer for the headliner it was hard to be bummed for long. There was a sense of excitement in the air as Bachmann and his band took the stage, and as much as I wanted to be in on that excitement, I honestly didn't know what to expect. I had listened to a few of his Archers of Loaf songs, but for whatever reason they didn't immediately resonate with me. So I went into Bachmann's set with fresh ears and was completely blown away by what was happening on stage.
Bachmann, a tall man with an unassuming yet commanding presence, launched into his set with a special sort of reverence for the songs he was playing. The music sounded like a skilled artist finding a new direction — a strikingly lucid vision of exactly what it is he wants to say and how he wants to say it after years of honing his craft. This feeling was backed by the fact that each and every person on stage was just as passionate and driven as he seemed to be. It was obvious these songs meant a lot to all of the musicians playing them; six in all crammed onto the small stage.
Among these talented musicians were two singers: Rebecca Marie Miller and Joy Pearson from the Portland-based band Lenore. Their achingly sweet and old-soul vocals added dimensions to the music that were reminiscent of Alison Kraus and Gillian Welch's work on the O Brother Where Art Thou? soundtrack. Their simple yet tragically romantic delivery of the lyrics "Hey love, don't turn on me now, I was gonna fight for you" during the song "Dreaming" left me teary-eyed in the middle of the crowded Soda Bar. It's hard to completely express how the way they sound together pulls at one's heart strings. All I can say is check out Lenore to see for yourselves.
Bachman closed his set with fan favorite "White Trash Heroes," from his early days with Archers of Loaf, and he also played a few songs from his project Crooked Fingers.
It was the end of a three-string run of shows for Bachmann and Meeks' bands, and when it was over I was fortunate enough to watch musicians outside the Soda Bar say their farewells. Set against the smell of cigarettes and the sound of cars rushing by, it was a bittersweet scene for sure. But there was a sense of gratitude going around that made it feel like each show was pretty special for everyone on stage, and as always, I felt honored to witness it.