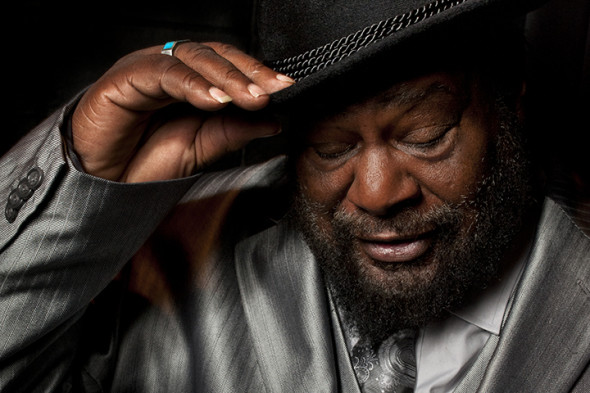 It would have been easy for one to conclude that George Clinton was not pleased with his Belly Up audience's reception.
During nearly every song at the Belly Up — particularly after a lengthy solo from one of his many Parliament-Funkadelic band members — he cupped his palm to his ear and waved his hand to elicit more applause. Make no mistake, however, the attendees were loving every minute of Clinton's non-stop, three-hour tour de funk, and the proof was in their arm-waving, dancing, and singing along to songs such as "Up for the Down Stroke," "(Not Just) Knee Deep," and "Get Off Your Ass and Jam."
Early on, Clinton asked the sold-out throng, "Are you ready to party?" From the moment the Mothership landed to dispense the funk, it was clear Parliament-Funkadelic had come to break every booty in the joint. With each song, it seemed, another character stepped on stage to further the story along — from a new lead singer to a well-appointed pimp daddy whose primary purpose seemed to be grinding a parade of willing women. It was as if a bachelorette party bus had unloaded at the side of the stage.
Clinton, who turns 75 next month, spent the night hopping in and out of an office chair positioned mid-stage. There, he'd spin around to conduct his bandmates and turn back to face his followers and take the lead on songs such as the poetic "Maggot Brain" and the crowd-pleasing, cat-chasing "Atomic Dog."
To his credit, the Godfather of Funk didn't rest on his laurels and rely solely on the '70s hits that earned Parliament-Funkadelic a place in the Rock and Roll Hall of Fame in 1997. The setlist also incorporated some rap, some Living Color-esque funk rock, and newer material from the band's 2014 outing, First Ya Gotta Shake the Gate. They even piped in Kendrick Lamar's vocals for "Ain't That Funkin' Kinda Hard on You?" — Lamar guests on the song's remix — and gave well-received nods to "Get Low" (from the window to the wall) and "The Roof is on Fire."
While there were way too many talented musicians on stage to call out all of them here, it is necessary to at least acknowledge guitarist DeWayne "Blackbyrd" McKnight and saxophonist Greg Thomas, both of whom stepped into the spotlight on several occasions for jaw-dropping solos. (It's also worth noting that, sadly, original Parliament-Funkadelic keyboardist Bernie Worrell lost his battle with cancer the day after this performance.)
About mid-way through their set — at the 90-minute mark, when most bands wrap things up — Clinton informed the crowd, "We're just getting started!" In fact, it's difficult to discern when, exactly, Parliament-Funkadelic are bringing things to a close because they perform each song as if it's their encore. It's this unwavering commitment to give up the funk song after song, night after night, that keeps people coming out in droves to support this band. One Nation Under a Groove, indeed.