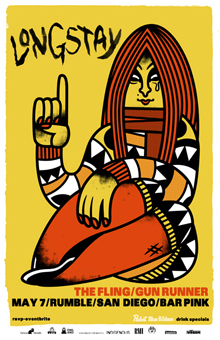 MP3: Longstay – "I Swore That Off Before"
MP3: The Fling – "Wandering Foot"
MP3: Gun Runner – "Fiber Glass"
If you gauged the passage of time in terms of Rumbles, life would go by very quickly. It seems like only yesterday that the monthly music showcase last passed through San Diego, and here we are again. It's like having a birthday every month.
This month's Rumble will be held at Bar Pink tomorrow, May 7, and will feature Longstay, The Fling, and up-and-coming locals Gun Runner. Longstay are an Americana/indie-folk band in the vein of Dawes. Local art advocates Sezio.org have called their Homes & Houses EP "a rock-pop album that's not afraid to show some soul, or a soul-pop album that's not afraid to rock." In addition to the MP3 (above), be sure to check out Longstay's puzzling website for a few minutes of a-maze-ing fun.
Long Beach's The Fling recently released their debut LP, When The Madhouse Appear, and it's received rave reviews. Exploding In Sound has described it as  "shoegaze inflicted folk music, woozy pop balladry, swirling psychedelics, luscious vocal harmonies, and all around incredible song writing."
Last, but not least, are openers Gun Runner. We're pleased to have these talented San Diegans (and O&B friends) on the bill. The seriously talented quartet is one of this town's best indie bands; we compared their Bad Neighbors EP to the "psychedelic blues of Bob Dylan's 2007 masterpiece, Time out of Mind" (but with far, far, far better vocals).
DJ Snakehips will spin discs between sets. As always, The Rumble is free, and it's brought to you by Future Sounds, Indigenous, San Diego: Dialed In, Bedouin Vintage Collective, Friends With Both Arms, Strong Screen Printing, Eventbrite, Pabst Blue Ribbon, and, as always, your friendly neighborhood Owl and Bear.