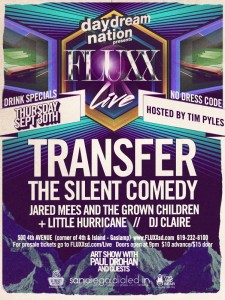 This month's Fluxx Live lineup is its best yet. Sure, this is only the fourth outing in the fledgling monthly event's history, but that doesn't make the bands any less formidable.
Fresh off their Best New Artist win at this year's San Diego Music Awards, local duo Little Hurricane will open the show. They haven't been around long, but their sweaty, ominous brand of blues has already made quite the splash around town, and they've got the award to prove it.
Next, Portland's Jared Mees and The Grown Children will represent the Pacific Northwest with some sunny, acoustic ditties. Since they're not from here, they obviously weren't eligible for any San Diego Music Awards, but we're sure they would have won a couple if they had been.
Then it's back to the local acts with a set by homegrown heroes The Silent Comedy. The folky five-piece recently won some SDMA gold of their own — their LP, Common Faults, took away Best Pop Album honors. The nomination was a bit unexpected, considering that The Silent Comedy are about as close to being pop as they are to being polka, but that doesn't make the recognition any less deserved. Continue reading…