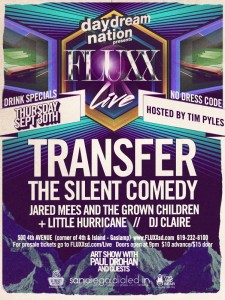 This month's Fluxx Live lineup is its best yet. Sure, this is only the fourth outing in the fledgling monthly event's history, but that doesn't make the bands any less formidable.
Fresh off their Best New Artist win at this year's San Diego Music Awards, local duo Little Hurricane will open the show. They haven't been around long, but their sweaty, ominous brand of blues has already made quite the splash around town, and they've got the award to prove it.
Next, Portland's Jared Mees and The Grown Children will represent the Pacific Northwest with some sunny, acoustic ditties. Since they're not from here, they obviously weren't eligible for any San Diego Music Awards, but we're sure they would have won a couple if they had been.
Then it's back to the local acts with a set by homegrown heroes The Silent Comedy. The folky five-piece recently won some SDMA gold of their own — their LP, Common Faults, took away Best Pop Album honors. The nomination was a bit unexpected, considering that The Silent Comedy are about as close to being pop as they are to being polka, but that doesn't make the recognition any less deserved.
Finally, headliners Transfer will close out the evening with their U2-esque arena rock. Not only did the band deliver a solid performance at the SDMAs, they also took away the Best Rock Album award for their Future Selves LP.
The shindig will take place on Thursday, September 30th at Fluxx. Those of you who have been to Fluxx Live before will know the drill: drink specials, no dress code, tickets are $10 in advance or $15 at the door, and local DJ-extraordinaire Tim Pyles will be hosting. You'll also be able to feast your eyes on some art by Paul Drohan, and fans of funk and soul will be happy to know that DJ Claire will spin between sets.
That's four bands, cheap drinks, a DJ, and an art show all in one night. The lineup is so awesome you'd probably guess that it's sponsored by your benevolent friends at Owl and Bear, and you'd be right. If you see us there, feel free to convey your boundless appreciation by buying us drinks, or by nominating us for an award of some kind. When are the San Diego Music Blog Awards held, anyway?