Tag Archives: Joseph Gordon-Levitt
When it comes to how much time should elapse between sequels, there tends to be a sweet spot. Continue reading…
Friday in Hall H had little to do with comics, but these days at Comic-Con, that's more rule than exception. Continue reading…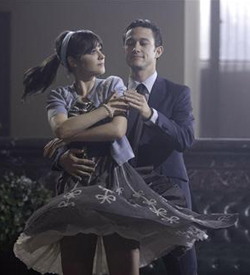 (500) Days of Summer is a formulaic, twee romantic comedy masquerading as an iconoclastic rethinking of the date movie designed to lure in unsuspecting hipsters by flattering their self-perceived sophistication and esoteric musical taste ("You like the Smiths?") that ultimately perpetuates the same silly, shallow, and juvenile worldview it claims to transcend, and, in doing so, sends the increasingly trite and predictable indie-rock film aesthetic careening even further toward the mainstream whilst offering a version of He's Just Not That Into You for Buffalo Exchange shoppers.
But that doesn't mean it isn't fun.
Case in point: the new video for She & Him's "Why Do You Let Me Stay Here?" (courtesy of USA Today), which stars (500) Days odd couple Joseph Gordon-Levitt and Zooey Deschanel (aka the She to M. Ward's Him) in the charming tale of a mid-heist boogie session. Had this video been included in the movie, it would have stood out as a rare reprieve from watching Gordon-Levitt agonize over Deschanel's vacuous, Ringo-loving heartbreaker.
You can watch the video, preceded by an introduction from the perpetually dazed pleasant Deschanel, after the jump. Continue reading →