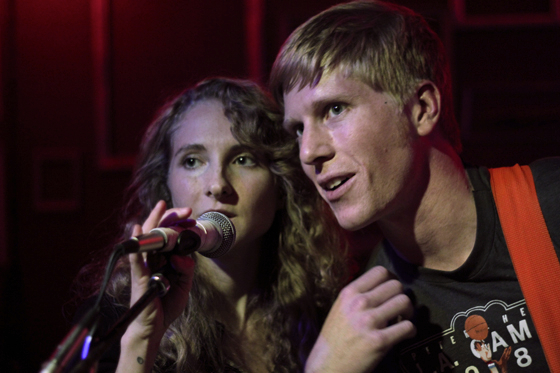 Salty sweethearts Alaina Moore and Patrick Riley of Tennis aren't just capable young sea navigators — they also put on a great, albeit short, live show. In person, Moore brings to mind a more innocent, bigger-haired Liz Phair, while Riley resembles an older Dennis the Menace. The two, along with touring drummer James Barone, rocked their new album, Cape Dory, to a sold-out audience of canned-beer drinkers at the Tin Can Alehouse on Saturday.
It was easy to discern the palpable romantic chemistry between the recently married Riley and Moore. But, in true relationship fashion, it was even easier to see that they succeed together because of their individual talents. With furrowed brow and frail fingers, Moore played her keyboard with nimble precision, singing each song in her whispery but strong voice. Riley, head down and dancing, strummed his guitar with the assurance of someone who clearly knows the difference between port and starboard.
As for drummer Barone, who applied the necessary percussive glue to the tracks — maybe he'll meet a nice female bass player before Tennis record their sophomore album. Check out photos and video of the show below.