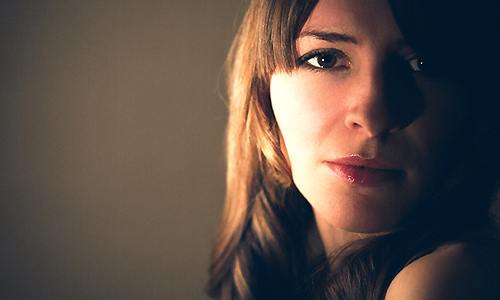 Given the slightest provocation, most people can't wait to tell you about their favorite bands, albums, or influences. But when we asked Leicestershire, England's Olivia Broadfield to compile this list, she demurred. "I don't really have a very cool taste in music, but then neither is my music very cool, so I guess it makes sense. I managed to refrain from writing down Britney but only just."
If you listen to her music (MP3: "Dont Cry"), you can tell that the modesty is unwarranted. Her style is a cross between (good) Regina Spektor and Feist, with a dash of electro-pop. A pianist since age six, and a self-taught guitarist since age 13, she also prides herself on her strong DIY ethic, which is impressive considering the richness of her sound. Olivia Broadfield's debut album Eyes Wide Open is out today on Vagrant.
Poetic Memory is a regular Owl and Bear feature in which musicians disclose their influences—whether it's albums, songs, artists, or something random. If you're interested in being featured here, send us an email.
1. Madonna -Â Immaculate Collection: OK I know it's a slight cop-out having a "best of" in my top albums but I love listening to Madonna's music evolve through this album. I only have to hear the first few bars of "Holiday" and I'm hooked…I loved Madonna when I was a kid, me and my friends used to make up dance routines to "Like a Virgin" when we were like 7…so wrong!
2. Feist -Â Let It Die: Feist's voice kills me, it has such a warmth and intimacy. She mixes uptempo tracks with the saddest songs so well on here…"Let It Die" is just such a beautiful song and album.
3. Frou Frou – Details: This album got me hooked on electronic music—the sounds Frou Frou create are just huge—this album wraps you up in warmth and sucks you in…I love it!
4. No Doubt – Rock Steady: I'm so jealous that the reformed No Doubt aren't touring the UK, this album is so awesome, not a single filler…just brilliant songwriting and production.
5. Gwen Stefani – Love, Angel, Music, Baby: I adore Gwen Stefani, I saw her in concert and it was without a doubt the best gig I've been to. It's a toss up between this and her latest album, both are so good. Her energy is amazing live and I love how she can just rock any style musically.
6. Carole King – Tapestry: Carole King's songwriting craft is unrivaled—this album has me in tears and then the next track I'm dancing round my living room…it makes me sound like a nana, but no-one writes songs like this anymore.
7. Abba – Arrival: My grandad hated "modern music" as he called it, but he loved Abba…he told me they knew how to write a good song and he wasn't wrong. I can't tell whether it's cool or not to like Abba but I really don't care!
8. Kate Bush – Hounds of Love: Even though this album scares me in places (Kate Bush can be quite weird and I have a nervous disposition)…I'm amazed at the sounds she creates…I'm such a synth whore!
9. Lily Allen – Alright, Still: For some reason, there's a part of me that wants to hate Lily Allen's music, but her songs are so freaking catchy I can't help but like them…
10. Tegan and Sara – So Jealous: Tegan and Sara write the perfect 3 minute pop songs—I hate pretentious music and this is pop in a pure, raw form…love it!