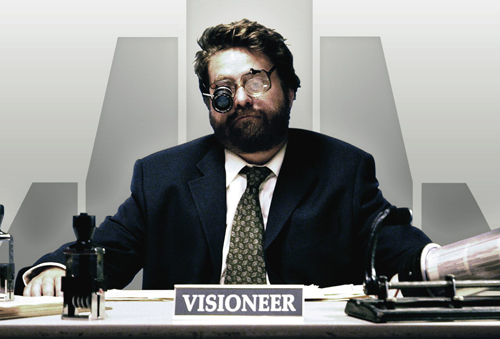 Yup, Tunts. I'm not exactly sure what a Tunt is, but I do know Zach Galifianakis is definitely a Level-3 one of them. Another thing to consider is, you are or become a Tunt at the Jeffers Corporation, which, if you didn't know, is "the largest and friendliest and most profitable corporation in the history of all mankind."
Also, everyone at the Jeffers Corporation greets one another by flipping the bird, which seems to have spread like some sort of meme in New York and Los Angeles. This makes sense, since Zach is willing to meet you in one of these places if he's really into pics of your Tunts.
Ready to send Zach pics? It's for a contest, so make sure your Tunts are fetching. Here's what's going on: First, host a screening of Visioneers, a movie starring Zach, which comes out on DVD July 21. Second, take pictures of the audience, who, it seems, by virtue of viewing Visioneers, are now a bunch of Tunts, and so will you be among them. Third, send those Tunts to Zach, or whoever's judging the contest. Finally, win, meet Zach in NYC or LA, and have him sign your beard, which you grew to win a consolation prize in case your Tunts did nothing for Zach and his people. (It's probably better to go to the movie's official website where they can officially tell you about the contest all nice and official-like.)
If you're not familiar with Visioneers, it might be because not enough has been said about it. The movie, which premiered more than a year ago and seemed relegated to festivals, is the first feature film from brothers Justin and Brandon Drake. A graduate of UCLA's not-to-scoff-at film program, Justin directed the film and Brandon, after working in a life-sapping corporate environment that made him feel as if he were going to explode, wrote the script, which is about people working in a life-sapping corporate environment who explode. Zach, playing George Washington Winsterhammerman, a Tunt at the Jeffers Corporation, is supported in the film by Judy Greer, Mia Maestro, James LeGros, and Missi Pyle. Visioneers, as far as I can surmise from the trailer, will show a dynamic, vulnerable, but still deeply arch Zach.
Typically known for his stand-up, Zach has become something of a household name with his role in The Hangover, in which he played a pitiable creep like Nabokov's Humbert Humbert but with more heart and fewer smarts. For many, it was Zach's first movie, despite the fact that he could've been seen in Out Cold, Bubble Boy, Below, and Into the Wild, among other films. Also there's the sorely missed Dog Bites Man, a faux-documentary TV series featuring Zach in an ensemble cast alongside Andrea Savage, Late Night with Jimmy Fallon head writer A.D. Miles, and Upright Citizens Brigade cocreator Matt Walsh. At any rate, The Hangover became Zach's breakthrough role. And it's about time he's being noticed.
If Zach has made you laugh, chances are you laughed a lot, so now why not do something nice for him? Send Zach pics of your Tunts. No big deal. If you're lucky maybe they'll end up on the Internet.