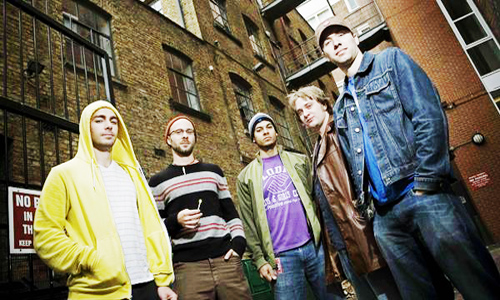 Cougar, Madison Wisconsin's all-foxy-grandma-instrumental-post-rock band, just released their sophomore effort, Patriot. Along with it came two starkly different—yet excellent—singles,"Stay Famous" (MP3) and "Foil Épée Sabre" (MP3, EP only). "Stay Famous" plays with old-school indie dynamics, while "Sabre", a meandering folky piece, may or may not have something to do with fencing. You can check out their catalog at iTunes, as well as other places.
We recently got together with Cougar to talk Poetic Memory, and after listening to the two songs above, it should be no surprise that their influences range from Timbalada's "boobs" album (whose cover is NSFW, by the way), to Bach, Hendrix, and Tortoise's TNT. If you are surprised, it's all explained below.
They have one gig in their hometown of Madison, Wisconsin before they embark on a European tour. Tourdates are at the bottom of the post.
David Henzie-Skogen (drums, percussions, beats)
Timbalada: I was playing in this Brazilian drum group in high school called The Handphibians, and they all went to Brazil for a few months when I was 17. My parents, wisely, told me to stay home. The 'Phibs came back oozing Timbalada. The first album, which one either calls 'self-titled' or 'boobs,' is murderous. Samba hit me right where it hurts: block party music that demands an entire block to play it right, no amps necessary. Anything with dozens of drummers playing like they're going to expire tomorrow makes me lose my marbles. See: my unyielding fascination with Drum Corps and teaching drumlines. That culture is like the cerebral extreme of investigating rhythm.
Four Tet: Keiran's ear is so laden with beautiful, catchy hooks, yet so informed by the free jazz/improvised music movement, which are two almost diametrically opposed forces in most settings. I'm not sure anyone else could've made hip-hop and Ornette Coleman seem such obvious brethren. The nuance in his tracks is all the more inspiring because he knows when to exercise restraint. It can't be an easy thing to do with so many tricks in your bag, production-wise, but it's why his music exudes a very personal emotional maturity. I could listen to Rounds forever.
Rebirth Brass Band: Rebirth completely blew my mind when I was 13 and looking for music that was largely horns and drums but gave me the same kind of visceral kick in the ass that West African and Brazilian music did. The second line beat is the heaviest, rawest American beat, and the one that links New Orleans to the rest of the Afro-Caribbean world. We don't celebrate it the way Cuba celebrates rumba, which always baffled me, but the depth of the swing in groups like Rebirth is a true power to behold live. Music borne of death always seems to sound like living forever.
Fugazi: The band that completely redefined to me what it means to have a band, how to operate, and most of all how to physically invest every ounce of yourself in what you're trying to create. Fugazi made rock sound brand-spanking-new again, and every album reaffirmed the process rather than dated it.
Coltrane Quartet: Duh. The first Coltrane record I ever bought was The Africa Brass Sessions, and Elvin Jones made me jump up and down. The way someone was playing jazz finally felt like the above four groups to me. I hesitate to try and describe Coltrane's playing without sounding trite, but if there's anything short of transcendental about experiencing it, then you're an asshole. The way the four of them played together was so unprecedented; they had such a unified vision of a sound no one was making yet. I spent two years in a practice room armed with a glut of Coltrane Quartet records and a fierce desire to figure that vibe out. I'm pretty sure I didn't, but it made me endeavor to make music that felt even half as intense, and to try and remember that any pursuit can be as purposeful as the mission those guys were on, if one cares enough. We make it so, or we're wasting our time.
Todd Hill (basses)
Miles Davis: I've been listening to Miles since I was five, and can still remember hearing the opening to So What the first time. To put it plainly, anyone that calls themselves a musician has gleaned some sort of knowledge from Miles' four decades of recordings.
Hank Williams: I didn't get into country music until I moved to Chicago and began to try to play it. Coming from more of a jazz background it took me awhile to realize the importance of restraint. Hank Williams can take three chords, three verses, and a chorus and make you feel like you've been hit by a freight train, all the while being backed by a band that kept it "vanilla," creating the perfect bed for Williams to croon over. Listening to Hank really brought the "song" concept home for me.
Cheap Trick: Robin Zander, Rick Neilsen, Tom Petersson, and Bun E. Carlos have put out a couple of huge songs, but they've mostly been under the mainstream radar. They've been rock-n-roll's workhorses for a long time and any rock band that has a guitar player and a drummer that can keep time can list these guys as an influence. Plus, that 12-string bass opening to "Gonna Raise Hell" floors me every time.
D'Angelo: Yeah, he's only got two albums, and Brown Sugar was good, but Voodoo just kills it. That record just grinds.
Debussy: Impressionistic composers such as Debussy, Liszt, and Ravel pioneered in the shapes and sounds that conveyed moods and space. I think most modern composers, especially in the electronic vein, draw freely from these sounds and textures that were written over a hundred years ago.
Trent Johnson (guitars)
Jimi Hendrix: The plain, inescapable reality of those who choose the electric guitar—no one matters more than Hendrix. This is not subject to argument. So many of his songs are in the canon of modern music; "Machine Gun", in my opinion, is the most profound rock track ever written.
Boards of Canada: One of my favorite groups ever, and easily my favorite electronic group. They are metaphysicians, not musicians. There is an unmistakable, hypnotic speaking quality to their tones and melodic lines—they are so lyrical and singing. This music is really a sanctuary for me. See the album Music Has The Right To Children.
Nas: I remember getting so many ideas from Illmatic, especially rhythmic ideas, when I first started playing guitar. My first band was, essentially, live hip-hop. We studied Nas incessantly, especially albums Illmatic and It Was Written. As to rhyming, his delivery is as clean as the inside of an autoclave—immaculate. I aspire to play like he rhymes.
John Frusciante: Probably the most influential recent guitarist for me. Instinct guides his playing. Watch some early 90s vids of him playing Red Hot Chili Peppers songs. There is so much intimacy in his attack; dude is fucking raw.
Joe Jackson: Some people like Elvis Costello, but for me Joe Jackson is the most inventive and compelling 70s/80s British singer songwriter. I grew up listening his albums Look Sharp and Night and Day. Breaking Us In Two is one of my favorite songs ever. I am astonished by how under-the-radar this guy was; an erstwhile power-pop juggernaut that nobody knew. I love his sound still.
Aaron Sleator (guitars, laptop, synths)
Squarepusher: I used to listen to tons of fusion records in college. People like Miles Davis, Return To Forever and Mahavishnu Orchestra turned me on by combining rock tone and intensity with jazz virtuosity. I first heard Squarepusher's Hard Normal Daddy while hanging out at David and Todd's apartment in Madison, and it blew my mind that so much music could be made by one person. Later when I did a little research, I couldn't believe that this record was made on such modest equipment. Squarepusher, along with Aphex Twin and Autechre, really opened my eyes to the possibilities of using machines and a DIY aesthetic to make new music.
Early Studio One records: I love, love, love old pop music. It's beautiful simplicity at it's best. I have a particular affinity for Studio One during the era when Jamaican artists were being inspired by the sounds coming out of Motown. The songs have such a simple set of parameters: good beat, strong vocals, simple subject matter and Hooks. Artists like King Tubby not only built their own equipment (he repaired televisions by trade), but also produced beats that were so much more loose than American pop artists. They're sexy and funky and brash. A song like Ken Boothe's "Just Another Girl", with lyrics like "I love you but remember you're just another girl," is Straight Bold.
Elvis Costello: I was a little late in coming to Elvis Costello, but I feel a deep, deep connection to his music. He writes pretty little songs about the ugly things in life, and his ability to write winding hooks is second to none. More importantly though, it's his early Angry Young Man viewpoint that I'm particularly attracted to; he's more working-class than other artists of that ilk. Not to mention that The Attractions are unstoppably awesome.
Led Zeppelin: This is obvious as sin, but Led Zeppelin is the rock and roll band. But forget all that Tolkien-inspired B.S. that gets written while soul searching after years of doing blow off of 19 year-old models. I'm talking rock like "Whole Lotta Love", "Immigrant Song", and "Moby Dick". Zeppelin, along with Guns 'N Roses, made music that will always force you to stop flipping through radio stations and just turn it up. They make me want to get naked and go crazy.
Ennio Morricone: This man is raw creativity and work ethic. He's made so much mind-blowing music and, as far as I know, stayed relatively sane. It's a lesson that you don't have to get all Sun Ra to really go out in space. Morricone was combining rock, modern classical and musique concrete back when people were still fawning over the radical sound of Yellow Submarine. And he's still doing it. There's power and ambiguity in his music that rewards with repeated listens. The man is Deep.
Dan Venne (guitars)
Tortoise: A very eye opening experiencing for me was listening to both Millions Now Living Will Never Die and TNT. Maybe I was late to the scene but I had no idea people were making instrumental music as colorful and exciting like this. I would put on Millions and walk to class and show up like thirty minutes late and in a daze.
Stone Temple Pilots: I got Core when I was a freshman in high school and right around the time I started to get serious with guitar. I learned to play a lot of songs on that album. It was so different from other songs I was trying to learn at the time because the chords were weird but sounded so fucking cool.
J.S. Bach: It can sound pretentious to mention someone as heavy as Bach, but when I studied classical guitar Bach was always a mainstay of the repertoire. It'd be a shame to not mention this as a major influence on me. Almost out of pure rote repetition I learned to appreciate his amazing counterpoint and modulations.
Wes Montgomery: As a "schooled" guitarist, my favorite guitarists have always been the unschooled. Wes Montgomery makes it look like playing the guitar is fun and easy. What could be better than that? As I look back on having studied Jazz I can't help but think "maybe we shouldn't be treating it like serious rocket science?" One could study for years and still never match the feel and lyricism of Wes.
Mastodon: I discovered metal music a little later in my life than the average guitar playing white male from the Midwest. I would mention Metallica, but I feel I have drawn more of a passionate inspiration from Mastodon. Their energy is contagious and their sound is timeless. I think my quality of life went up when I let my guard down and let the epic metal in. I think I should aspire to live more by that motto.
Tourdates:
Sep 18 2009 Forward Music Fest Madison, Wisconsin
Oct 1 2009 Hoxton (Counter Night) London
Oct 2 2009 Revo Liverpool
Oct 3 2009 Sugar Club Dublin
Oct 4 2009 Captains Rest Glasgow
Oct 5 2009 Sneaky Pete's Edinburgh
Oct 6 2009 Start The Bus Bristol
Oct 7 2009 Batofar Paris
Oct 8 2009 Sous Soul Bern
Oct 9 2009 Mariaberg Rorschach
Oct 11 2009 MTC Koln
Oct 12 2009 Schocken Stuttgart
Oct 13 2009 AB Club Brussels
Oct 14 2009 Democracy Gent
Oct 15 2009 Gruner Jager Hamburg
Oct 16 2009 Privat Club Berlin
Oct 18 2009 Ampere Munich
Oct 21 2009 Jericho Oxford
Oct 22 2009 Chantry Social Club Canterbury
Oct 23 2009 Lexington London