Fanfarlo to Open 'Reservoir' 11/24 at the Casbah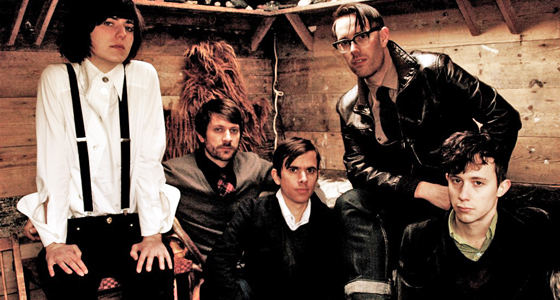 Does anyone remember an album called Funeral, released by a then-unknown band called Arcade Fire? I know you're racking your brain to remember. Do you remember how you felt when you first heard it? The sheer jubilation you enjoyed when the anthemic chorus erupted and subsided, sending chills down your spine? Some might say this is a stretch, but I experienced that once again listening to the album Reservoir, by yet another unknown band named Fanfarlo.
This six piece Swedish/British band employs a full compliment of trumpets, accordions, synthesizers, bass, piano and just about any other instrument you can imagine, to create a scintillating mix of upbeat jangly tunes that twist and turn in your speaker. The songs usually end up with you smiling and bobbing your head from left to right in that way we all know.
Simon Balthazar's voice sounds a bit like Zach Condon from Beirut, but with a sweeter delivery that compliments each song's strong brass section and emotional build up. Produced by Peter Katis (The National and Frightened Rabbit), Reservoir is a mature effort that shimmers its way through your ears and into your heart with songs like "The Walls are Coming Down" and the instant classic sing along "Harold T. Wilkins."
Hear it for yourself:
They're currently touring with another up-and-coming band, Freelance Whales, and we're looking forward to their San Diego show next week.

Fanfarlo Tour Dates
Nov 22 – Rickshaw Stop – San Francisco, CA
Nov 23 – The Echo – Los Angeles, CA
Nov 24 – The Casbah – San Diego, CA
Nov 27 – Muddy Waters – Santa Barbara, CA
Nov 29 – Club Congress – Tucson, AZ
Nov 30 – Sante Fe Brewing Co – Santa Fe, NM
Dec 2 – The Independent – Austin, TX
Dec 3 – The Loft – Dallas, TX
Dec 4 – Walter's On Washington – Houston, TX
Dec 6 – The Bottletree – Birmingham, AL
Dec 9 – Metro Gallery – Baltimore, MD
Dec 10 – Johnny Brenda's – Philadelphia, PA
Dec 11 – IOTA – Arlington, VA
Dec 12 – Brillobox – Pittsburgh, PA
Dec 14 – Majestic Cafe – Detroit, MI
Dec 15 – El Mocambo – Toronto
Dec 16 – Il Motore – Montreal
Dec 17 – T.T. The Bear's – Cambridge, MA
Dec 18 – Webster Hall – New York, NY
Potentially related content