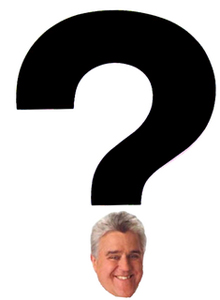 When considering whether ancient aliens landed on Earth thousands of years ago and got civilization boost started here, you're bound to create a few sentences ending with question marks. This is precisely what happened to Erich von Daniken when he wrote Chariots of the Gods, a book that reimagines Earth's ancient origins. Among others, von Daniken poses the following questions: "Was God an astronaut?"; "What connection have mummies with our theory of space travelers in the remote past?"; "Will hospitals in the year 2100 be spare-part stores for defective men?"; and "Ought we not ask such questions?"
With more than two hundred question marks in the slim book, von Daniken leaves the reader clamoring for answers. But you have to appreciate the fact that von Daniken's willing to ask the questions everyone else is perhaps too afraid to.
It's with this inquisitive spirit that we consider Jay Leno's unprecedented return to The Tonight Show. There are lots of questions, to be sure, but let's start with what we do know: airwaves are soon to be The Jay Leno Show-free and new episodes of The Tonight Show will begin airing March 1, with Leno as the permanent guest host of the show, which has no permanent host. Now for the questions.
Will NBC change the name from The Tonight Show with Conan O'Brien?
NBC has nearly completed its second week of rerunning episodes with Conan as the host after his departure. By the end of the month, viewers—curious to see a show that's likely to dwell deep in the broadcaster's archives come March—will be well acclimated to Conan's style and O'Brien will be well branded as The Tonight Show host.
Will Leno thank O'Brien, or mention him at all?
NBC proposed what, at a glance, appeared to be a compromise: give Jay a half hour at 11:35, moving The Tonight Show's start time past midnight. Conan, however, didn't see the proposition as an amenable split, but instead as a biblically unacceptable bifurcation of late night. If it weren't for Conan's perhaps too precious idea of The Tonight Show qua institution, Leno would find himself having to do a relaunch on an undesirable product.
Will Leno thank his unimaginative show?
Say what you want about Leno the man, but his ten o'clock show was simply and objectively not that good. Had the show been tune-in-able, its success could have cemented Leno into The Jay Leno Show.
Will "I'm with Coco" exhorters stay vigilant, tuning out March 1?
When Conan declared his intention to leave the network, a ravenous crew of O'Brien followers (but not necessarily viewers) emerged on the Internet. We won't know if the "I'm with Coco" campaign is simply a meme until O'Brien gets his own show again, but an 18-to-34-demographic hole in viewership on March 1 would be an indicator.
Will Leno thank Carson?
When Leno took over The Tonight Show in the early nineties, he deliberately didn't thank Johnny Carson, who, after a thirty-year run, made The Tonight Show legendary. It would be like Ivanka Trump not giving her father some credit for her success. The snub was blamed on the show's then executive producer, and it is a gesture that Jay has since regretted. A bad move then, perhaps thanking Carson this time around would mean something, despite the fact that Carson has moved on to host The Tonight Show in the sky.
Will Leno thank the ancient aliens that put this whole mess of a world in motion, making him luckier than Lou Gehrig?
Here's Leno's second chance to make a first impression. What will he do?