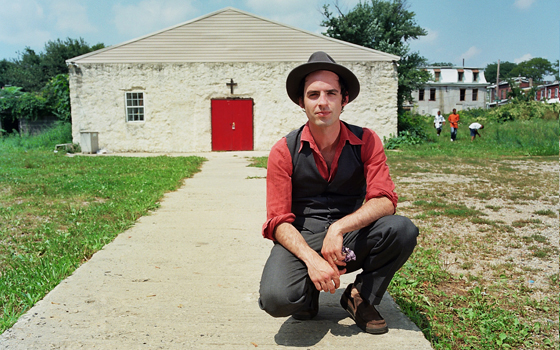 When it was announced that indie darlings Clay Your Hands Say Yeah would be going on hiatus, fans clasped their hands and screamed no. Such breaks rarely bode well for a band's future, and assurances from the group that the split would only be temporary did little to assuage concerns. Though the Brooklyn-based band's future remains uncertain, fans can at least take comfort in following frontman Alec Ounsworth's new solo career.
Ounsworth released his debut album, Mo Beauty, on ANTI- Records in October. Recorded in New Orleans with a slew of Big Easy ringers that included George Porter, Jr. and Stanton Moore, Mo Beauty favors traditional jazz arrangements over Clap Your Hands' carnivalesque sound. The album feels less surreal and more subdued than Ounsworth's previous material, but his unmistakably nasal delivery fortunately remains intact. Fans will get to experience the new sound firsthand at his upcoming show this Wednesday, February 10th, at the Casbah.
Opening for Ounsworth will be San Diego's The Vision of a Dying World, the solo venture from local everywhere man Jackson Milgaten. This will be the second high-profile gig for Vision in recent months; in October, the band opened for none other than Daniel Johnston, the troubled subject of the acclaimed documentary The Devil and Daniel Johnston.
The prolific Milgaten is known throughout San Diego for his various other projects—which include The Paddle Boat and Cuckoo Chaos—and is also the co-founder of emerging San Diego label Single Screen Records. The Vision of a Dying World used to be a straightforward, guitar-heavy band, but last year Milgaten changed courses and stripped the band down. The five-song EP I Will Not Fear What I Don't Understand unveiled a new Vision: Milgaten singing and playing acoustic guitar, with little to no accompaniment.
The pairing of Alec Ounsworth and The Vision of a Dying World is a fitting one, showcasing two singer-songwriters at the crossroads. Alec Ounsworth has gone solo but found a new backing band, and The Vision of a Dying World is now a one-man band with a full band's name. But, regardless of what they're calling themselves, it's the music that's sure to have people clapping their hands.