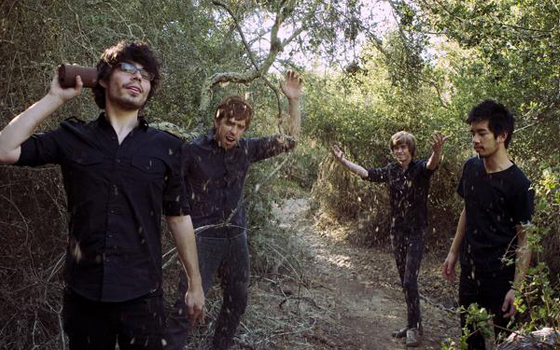 San Diego's Lanterns might have a luminescent name, but they have yet to enjoy the spotlight.
Despite high-profile gigs with bands like Matt and Kim, …And You Will Knows By the Trail of Dead, and These Arms Are Snakes, the four-piece has operated mostly under the local radar. But, thanks to a critically-acclaimed EP and two crucial shows on the horizon, all of that is set to change for the band.
The four-song, self-released Apocalypse Youth contains a scant fifteen minutes of music, but the band makes every moment count. From the driving "Midnight Psalms (Alright)" to the blistering "Creation Myth", the EP throws more hooks and spills more sweat than most full-length albums. Anchored by front man Lowell Heflin's Tim Kasher-style vocals, Lanterns' noisy, melodic songs overflow with enough attention-grabbing energy and crunchy guitar to jumpstart even the most slackened of pulses.
Though Lanterns formed in 2006, the buzz around them is only now starting to build. Last year, Alternative Press bestowed Best Unsigned Band honors upon them. They've also got two great shows coming up; they'll be playing the Soda Bar on February 15th with Diamonds Under Fire and The Feelings Mutual, and Bar Pink on March 26th with Best Coast and the much-hyped Surfer Blood.
Heflin has been quoted as saying "We don't wanna bring anything to the table. We want to be the table." Now, thanks to Lanterns' tour de force EP and do-it-yourself ethic, the tables may finally be turning.