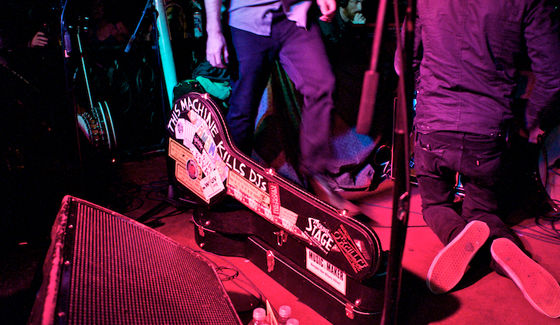 I've never understood the significance of The Casbah's "Anti-Monday League," except that the bands are better than average and that it seems to draw the scene. I've found that it does not mean drink specials, but scenesters don't need specials anyway when PBR tall boys are cheaper than water. Looking around, I assumed the bands would be an afterthought for this crowd and that I would be one of the only true Langhorne Slim fans — but then he came on and everyone started shouting the words! I've been too judgmental, scene kids. Your taste is exquisite. I'm sorry. Hold me.
But let's not jump ahead to Slim just yet. April Smith and the Great Picture Show were the opener, and this chick deserves mention. A petite girl in a sheer black flared skirt, April took the stage and filled the room with her huge voice, crooning throwback songs that sounded like they should be coming out of a three-foot-tall radio with two skinny kids sitting cross-legged in front of it. Unlike what you might hear in the 40s, however, her songs are spiced up with the attitude of a liberated woman, with lyrics suggesting she needs a man like a fish needs a bicycle and even a crowd-pleasing "Bitch, please." Occasionally it comes off as posturing, though, coming from such a petite girl with a face half-hidden by long brown hair; her songs betray a certain fragility even when riding on a booming voice and tart lyrics. Her band deserves praise — the drummer's grins and sex faces were a spectacle that stood on their own — and they put our ears in bluegrass mode for the main act.
I had caught Langhorne Slim at SXSW two years ago, but the venue was so crowded that I could barely see the stage. Nevertheless, even though his self-titled album has been in extra-heavy rotation for me since then, I really had no idea what to expect live, and damn, did the man deliver. About 10 seconds into the first song, Langhorne jumped up on the bass drum like there was no time to waste in starting this shit up. I nodded at my friends, who now know to never doubt me.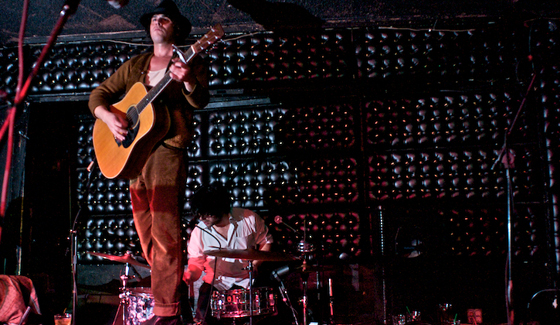 The songs revolve around standard themes — women and love, loneliness and loss, partying and friends — but they all contain an undercurrent of joy that draws me back like an addiction. And Langhorne Slim doesn't make you search too hard for that theme, either — the chorus to "Diamonds and Gold" goes "You gotta learn to get happy along the way," and he ordered the crowd to sing along. If his words are not enough to lift your heart, by God, he'll take his guitar and jack it up by force.
The fast songs are barn-burners: his strumming is so fast and crunchy that he makes one guitar sound like three, and his band throws down danceable bluegrass rhythms colored by keys, banjo, and upright bass. Although coming in I was more familiar with Slim's previous album, the majority of the set list was culled from his 2009 effort Be Set Free, which thankfully doesn't stray too far from this formula.
From what I've seen, Langhorne takes his own advice about getting happy, jumping around on stage, using the speakers like a jungle gym, hamming up tricks with his trademark hat, singing over the shoulder with his back to the audience, rambling good-natured vibes, and ad-libbing lyrics (at least I hope rhyming "I know a place in San Diego" with "leggo my Eggo" was improvised). It might all be a little earnest for some, but he could turn even the most jaded cynic into a believer when he shouts "I love playing with these boys." You can't fake a smile that wide.