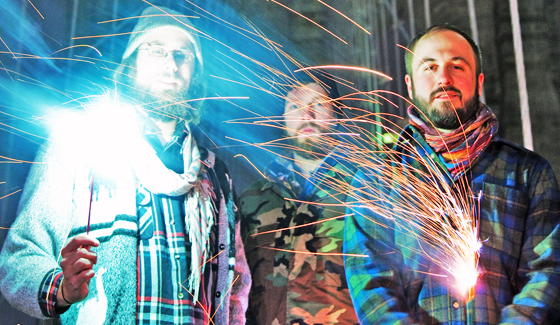 At their recent shows, Akron/Family have been playing a song called "Woody Guthrie's America" (MP3).
The song often becomes a sing-along that continues after the band has left the stage, and as a result of its anthemic nature, Akron/Family have collected over 20 versions sung and stomped by friends like Megafaun, Charlyne Yi, and Phonograph.
They're now looking to hear your version — and as a way to encourage contributions, they're offering free admission to anyone who submits their own interpretation. You can get started by visiting the Woody Project site, where you can download, stream, and sample the entire 25-song first volume.
If you'd like to contribute, send your own version to akronfamilywoodyproject@gmail.com, along with a photo and bio, and they'll "post it as soon as we can." More information about the project and Akron/Family tour dates are after the jump.
Seth Olinsky from Akron/Family explains the idea behind "Woody Guthrie's America" :
I hate a song that makes you think that you are not any good. I hate a song that makes you think that you are just born to lose. Bound to lose. No good to nobody. No good for nothing. Because you are too old or too young or too fat or too slim or too ugly or too this or too that. — Woody Guthrie

You can only drive across America, back and forth, up and down its mountains and coasts a few times before you want to pen a song about the beauty. And then you can only travel around the world a bit more, before you come back and want to write a song about the beauty and that little sing-song infrastructure of freedom you discover folded into the depths of it's grasses and hills. And then comes a time when you run into Woody Guthrie's music. Well, maybe you heard it before and liked it, but this time you are a little older, a little more traveled and you realize the power behind those simple songs, the power of humanity riding down those tracks. And in there you hear that same power grid of freedom and deep radical nature that seems to be singing to you from the Rocky Mountain tops, the Redwood forests, the Gulf stream waters, and, well, you all know that song. And so you can only go so long with all that rattling around your brain before you want to write a song about that too.

So imagine you start to write that song and start singing it. Well it just seems to make sense to try and encourage others to help sing it to. So you make the song simple and you try and make it tell that story and then you send it out. And as different voices start singing this same song, something amazing happens. It takes on a life of its own. The song never was and never is finished. The more people involved, the more the song becomes, the more it means, the more it changes, the more it stories, the more it rises like the moon and sets like the sun. A song can take on a life a world a value all its own. And all involved can help make it funny beautiful sad lovely wild and mourning. All in one song you can here 27 people's stories. 27 people's lives loves and humors. Now that is a song to feel good about and that is a song we all wrote.

And so I ask everyone to join in. Sing along. Help write this song with us. It may be a romantic idealization of times past and Americana wilderness freedoms unsung, but it sure feels good to share a song for free and imagine a time when you learned a song not from an advertisement but from a wandering friend and played it at home. Changed it to fit your own voice and instrument, your own story, your own news.
Seems pretty cool.
Akron/Family tour dates
2/17/10 – Greensboro, NC – Artiska Cafe
2/18/10 – Athens, GA – 40 Watt Club
2/19/10 – Orlando, FL – Back Booth
2/20/10 – Tallahassee, FL – Club Downunder
2/21/10 – New Orleans, LA – One Eyed Jacks
2/23/10 – Houston, TX – Walter's On Washington
2/24/10 – Austin, TX – The Parish
2/25/10 – Dallas, TX – Granada Theatre
2/26/10 – Memphis, TN – Hi Tone
2/27/10 – Nashville, TN – Exit/In
2/28/10 – Knoxville, TN – Pilot Light
3/01/10 – Harrisonburg, VA – Clementine Cafe
3/03/10 – Brooklyn, NY – Music Hall of Williamsburg