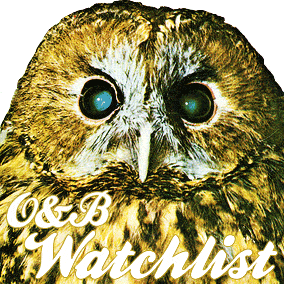 When Casey Dienel and Shawn Creeden of White Hinterland decided to relocate from the Northeastern United States to the Pacific Northwest, they also took their band's music in a whole new direction.
The change was born out of necessity; being in a new city without access to a piano — the centerpiece of their previous work — forced them to carve out a new sonic template, so they hunkered down in their Portland studio and started tinkering with loops and acoustic guitars.
The result is White Hinterland's second full-length album, Kairos, set to be released on March 9 on Dead Oceans records.
In 2008, White Hinterland released their debut, Phylactery Factory. The album had an overall jazz feel; the songs were piano-driven, and Dienel's delicate voice would range from spoken word to Regina Spector-style delivery. Though the album was an endearing one, a lot of the songs lacked a certain edge.
With Kairos, Dienel and Creeden have found that edge. They've shed their jazz leanings in favor of a minimalistic, electronic pop sound. It's a much more textured effort that relies on deep grooves and Dienel's sensual voice. Its waves of prismatic synth create a kaleidoscopic sound draped in blue lit atmosphere.
The first single from Kairos is entitled "Icarus" (MP3). It embodies the new direction of White Hinterland's music and is a can't-miss for fans of Bat For Lashes and Beach House. Additionally, White Hinterland will be embarking on a nationwide tour in support of Kairos in March. Check out the dates below.
White Hinterland tour dates:
3/14/10 Portland, OR – Holocene (Kairos Release Party)
4/09/10 Billings, MT – Railyard
4/11/10 Minneapolis, MN – Bedlam Theatre
4/13/10 Madison, WI – Project Lounge
4/14/10 Milwaukee, WI – Cactus Club
4/15/10 Chicago, IL – Empty Bottle
4/16/10 Pontiace, MI – Pike Room
4/17/10 Cleveland, OH – Beachland Tavern
4/18/10 Toronto, ON – Drake Hotel
4/20/10 Montreal, QC – Casa Del Popolo
4/21/10 Allston, MA – Great Scott
4/22/10 Brooklyn, NY – Union Hall
4/23/10 New York, NY – Mercury Lounge
4/24/10 Philadelphia, PA – Kungfu Necktie
4/25/10 Washington, DC – DC9
4/27/10 Asheville, NC – Grey Eagle
4/28/10 Atlanta, GA – 529
4/30/10 Austin, TX – Emo's
5/01/10 Denton, TX – Hailey's
5/03/10 Tucson, AZ – Solar Culture
5/04/10 Tempe, AZ – Sail Inn
5/05/10 Los Angeles, CA – Echo
5/06/10 San Francisco, CA – Bottom of the Hill
5/09/10 Seattle, WA – High Dive
5/11/10 Salt Lake City, UT – Urban Lounge
5/12/10 Denver, CO – Hi-Dive
5/13/10 Omaha, NB – Waiting Room