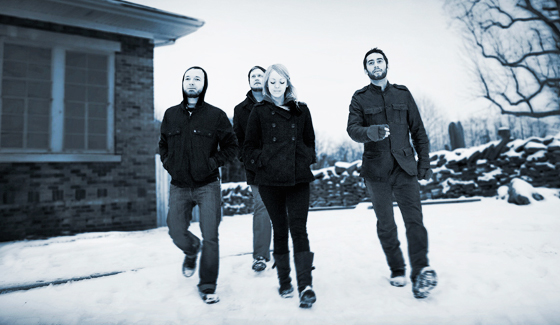 Since Murder By Death took their name from a 1976 spoof that actually guest starred Truman Capote, it wasn't surprising when their Poetic Memory came back consisting mostly of (goofy) movies. Everything from Big Trouble to Bogus Journey is represented in their list, so the next time you embark on a long trip, you'll have all the materials you need to effectively plan your van viewing.
The Indiana alt-rockers just released Good Morning, Magpie on April 6, and it's a gooder. They'll also be playing the Casbah on April 11. Ha Ha Tonka and Linfinity — two other excellent bands — will open the show. We posted Linfinity's Poetic Memory yesterday; Murder By Death's list is below.
Murder By Death's Top Ten Van Viewing Selections for Long and/or Night Drives
1. Big Trouble In Little China: Best van movie ever. Wizards, monsters, babes, one-liners — it has everything you could want.
2. Anchorman: Always hilarious, always quotable, never a bad decision.
3. Total Recall: If you didn't think you could love this movie any more than you already did, watch it with the commentary by Arnold Schwarzenegger and director Paul Verhoeven. Mind = blown.
4. The Simpsons: Kind of a no-brainer here. It doesn't require a long attention span and is always fun.
5. Pootie Tang: Ummm…if you've seen it, you know.
6. Predator: Excellent one-liners, big guns, an alien hunter, and the soulful eyes of Carl Weathers. Need we say more?
7. Bill and Ted's Bogus Journey: Wildly hilarious and one of the only times Keanu Reeves is a convincing actor. Plus there are cameos from Pam Grier and Faith No More's Jim Martin.
8. The Big Lebowski: Ever had a moment where you wished you hadn't just watched this movie? Neither have we.
9. East Bound and Down: Inappropriate and rammed with one-liners. It's kind of perfect for our purposes.
10. Lethal Weapon 2: Bullets, boobs, car chases, stuff blowing up, and the first appearance of Joe Pesci as Leo Getz. How can you go wrong?
Stream "Foxglove," from Good Morning Magpie:
[audio:mbd-fox.mp3]
Murder By Death tour dates
Apr 8, 2010 – Slim's – San Francisco, California
Apr 9, 2010 – Troubadour – Los Angeles, California
Apr 10, 2010 – Detroit Bar – Costa Mesa, California
Apr 11, 2010 – The Casbah – San Diego, California
Apr 12, 2010 – The Rhythm Room – Scottsdale, Arizona
Apr 13, 2010 – Corazon – Santa Fe, New Mexico
Apr 14, 2010 – The Conservatory – Oklahoma City, Oklahoma
Apr 15, 2010 – Emo's Alternative Lounging (Indoor) – Austin, Texas
Apr 16, 2010 – Mango's – Houston, Texas
Apr 17, 2010 – Rubber Gloves – Denton, Texas
Apr 19, 2010 – Thirsty Hippo – Hattiesburg, Mississippi
Apr 20, 2010 – The Masquerade Downstairs – Atlanta, Georgia
Apr 21, 2010 – Bottle Tree – Birmingham, Alabama
Apr 23, 2010 – The Orpheum – Ybor City, Florida
Apr 24, 2010 – The Backbooth – Orlando, Florida
Apr 25, 2010 – Common Grounds – Gainesville, Florida
Apr 27, 2010 – New Brookland Tavern – Columbia, South Carolina
Apr 28, 2010 – The Ottobar – Baltimore, Maryland
Apr 29, 2010 – Middle East: Downstairs – Cambridge, Massachusetts
Apr 30, 2010 – Higher Ground – South Burlington, Vermont
May 1, 2010 РCaf̩ Nine РNew Haven, Connecticut
May 2, 2010 – Music Hall of Williamsburg – Brooklyn, New York
May 4, 2010 – Bowery Ballroom – New York, New York
May 5, 2010 – Johnny Brenda's – Philadelphia, Pennsylvania
May 7, 2010 – Mr. Smalls – Millvale, Pennsylvania
May 9, 2010 – Grog Shop – Cleveland Heights, Ohio
May 10, 2010 – The Strutt – Kalamazoo, Michigan
May 11, 2010 – The High Noon Saloon – Madison, Wisconsin
May 12, 2010 – Triple Rock – Minneapolis, Minnesota
May 13, 2010 – Picador – Iowa City, Iowa
May 14, 2010 – Lincoln Hall – Chicago, Illinois
May 15, 2010 – Reggie's Rock Club – Chicago, Illinois
May 22, 2010 – Fuego a la Isla Festival – Chemnitz, Germany
May 23, 2010 – Orange Blossom Festival – Beverungen
May 24, 2010 – Festsaal – Berlin
May 25, 2010 – Gebaude 9 – Koln
May 26, 2010 – Molotow – Hamburg
May 27, 2010 – Gleis 22 – Munster
May 28, 2010 – Karlstorbahnhof – Heidelberg
May 29, 2010 – Ampere – Munchen
Jun 1, 2010 – Paradiso – Amsterdam, Holland
Jun 4, 2010 – The Musician – Leicester
Jun 5, 2010 – O2 Academy 2 – Birmingham
Jun 6, 2010 – King Tut's – Glasgow
Jun 7, 2010 – Deaf Institute – Manchester
Jun 8, 2010 – Luminaire – London
Jun 9, 2010 – O2 Academy 2 – Oxford
Jun 10, 2010 – Cavern – Exeter
Jun 12, 2010 – Barfly – Cardiff
Jun 14, 2010 – Crane Lane Theatre – Cork
Jun 15, 2010 – Academy 2 – Dublin
Jun 17, 2010 – Sidecar – Barcelona
Jun 18, 2010 – La Boite – Madrid
Jun 19, 2010 – Azkena – Bilbao