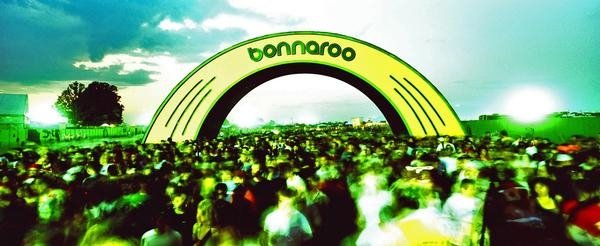 There are over one hundred bands playing at this year's Bonnaroo festival, so you might as well face it — you're not going to see everyone you like. Instead, you're inevitably going to be faced with a choice that could very well make or break your musical experience.
No one wants to be on the wrong end of the "Oh man, did you see so-and-so's set? It was mind-blowing!" conversation, silently steaming over why you chose to watch Gaslight Anthem over Edward Sharpe. But don't despair — after hours of intensive, scientific research, we here at Owl and Bear have come up with a list that guarantees your satisfaction.
Fanfarlo: If you are into joyous chamber pop with all the bells and whistles (literally), look no further than Fanfarlo. They've had a whirlwind year with the release of their critically-acclaimed LP Reservoir, and they even landed a song on the new Twilight: Eclipse soundtrack for all you 12-year-old girls out there.
Neon Indian: The long-term prospects of the "chillwave" genre are debatable. But one thing is for sure: the band that is currently doing the best job to pioneer the mellow movement is Neon Indian. The hipsters will be out in full force for this set, ready to get their "Deadbeat Summer" started.
Mumford & Sons: This Brit-folk group is a perfect fit for the Bonnaroo crowd. Just wait until they bust out the banjo — the hippies will be knee slappin' til the sun goes down.
Local Natives: Gorilla Manor is holding steady as one of 2010's best releases. It's one great song after another, and these guys are every bit as good live — their on-stage harmonies will leave you stunned.
Edward Sharpe & the Magnetic Zeros: The hippie-rock collective has developed a cult-like following, and you can bet the crowd will be singing along to bona fide indie rock classics like "Carries On" and "Home." It'll be a sight to behold.
Dr. Dog: The perfect band for the Tennessee sun. Their songs drip sunshine and good vibes, and they're sure to leave everyone in the tent beaming.
The Crystal Method: Bonnaroo isn't all indie and folk; there are some serious electronic acts as well. And they don't get much better than The Crystal Method, whose beats are guaranteed to get your booty shaking. Grab your glow sticks and dance like there's no tomorrow.
Ween: Over the course of their career, the brothers Ween have conquered just about every genre imaginable with their quirky, oddball songs. These days, Ween don't tour very often, so their Bonnaroo appearance is sure to be a performance to remember. As long as I hear "Ocean Man," I'll be happy man.
John Fogerty: Seriously people, this one's a no-brainer.
Phoenix: Just a couple years ago, Phoenix were playing in 250-capacity venues. Now they're one of the biggest bands on earth. Their set in front of a crowd of 80,000 should formally cement their status as undeniable rock stars.
LCD Soundsystem: Perhaps my most anticipated set, with a perfect time-slot: 2:30 – 4:00am. Once Mr. Murphy and company strike up "All My Friends," it will be a rapturous moment.
Conan O'Brien: There has been buzz building around this performance since its announcement. Personally, I can't wait to see what kind of new material Conan has come up with since we last saw him on The Tonight Show. If his recent dance-off with Stephen Colbert and Jon Stewart is any indication, the whole crowd will be in stitches.
The Flaming Lips performing Dark Side of the Moon: Any time the Flaming Lips are play nearby, I'm there. Wayne Coyne is a consummate performer, and this set should blow every one away. I expect a lot of Teletubbies, balloons, latex, and fake blood.
Jay-Z: He is one of the few hip hop acts universally accepted as being cool, and he's sure to lay the swagga on thick. I can't wait to see all the hippies interpretive dancing to hits like "Hard Knock Life" and "99 Problems."
Stevie Wonder: When a legend like Stevie Wonder takes the stage, you watch and listen. And dance like crazy to "Sir Duke" and "Superstition."
And, before you head out to the festival, be sure to check out our Guide to Bonnaroo Survival.