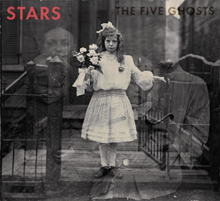 Most people know, recognize, and love Stars for their hit 2005 album, Set Yourself on Fire. With its songs about wanton breakups, doomed second chances, and last nights with lascivious lovers, Fire placated the heart of the love-scorned listener.
The Five Ghosts, to be released on June 22 on Stars' own Soft Revolution label, finds us five years later: more playful, less vengeful, but plagued by the persistence of memories. The haunting by the ever-present past is the central theme of The Five Ghosts, and resonates throughout the new songs.
In the opening track, "Dead Hearts," Amy Millan and Torquil Campbell apply their trademark, back-and-forth vocals to a Q&A on the existence of child ghosts. The anthemic "I Died So I Could Haunt You" uses the urgency of permanent loss ("I want only to haunt you…but you're never there") to beckon a sing-along.
The band excels in the art of exploiting the unrequited lover or, in the case of the album's first single, "We Don't Want Your Body" (MP3), the unrequited luster. "You tune into my frequency / that don't mean a thing to me / 'cause I don't want your body" serves as a solid, albeit harsh, breakup line in case the typical "it's not you, it's me" doesn't get the point across.
Stars' lyrical energy is usually focused on telling the story of a whimsical beginning or a tumultuous end, but never the monotonous middle. "The Last Song Ever Written" — which ardently claims that "this is the last time that there'll be a last time" — is a tongue-in-cheek admission that the band's dramatic revelations are easily proven false, so long as you're able to stop taking them so seriously.
If ghosts, death, and fear of change are too down-trodden for your taste, there's always the poppy "Fixed," which contains the word "fisticuffs" in the refrain. The inclusion of the always-comical phrase is enough to solicit a giggle from the haunted lover in all of us.