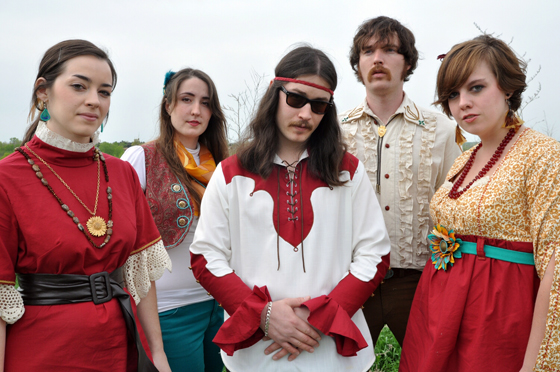 New bands can take a while to warm up to, but the art pop of Mammoth Life is instantly endearing. Resting somewhere between pop and folk, the Lawrence, Kansas band's bouncy sound is sugary yet rugged, equally suited for dancing or riding a horse.
In addition to their musical prowess, Mammoth Life have an eye for style. They've got their own clothing line — aptly named Mammoth Life Apparel — and they recently released a seven-inch called Enlightenment: A Romantic Gospel on fancy, transparent blue vinyl. The gorgeous record is individually numbered to 250 copies.
You can snatch up a copy on Friday, June 2nd, when the band brings its catchy melodies and Midwestern charm to the Soda Bar. The Hot Moon and Flying Objects will be joining them, so don't miss it.
Band leader/box guitarist/producer Nicholas Goss was kind enough to share his Poetic Memory with us, which you can find below.
The Beach Boys (1964 – 1967): In the fall of 1966, Brian Wilson and co. released the infamous 45-rpm single titled "Good Vibrations." For me, this song became the blueprint for how I define "pop music." The song combines three crucial elements for a great pop single, that being "experimentation," "progression," and, most importantly, "approachability." It did and to this day still sounds like nothing else I've ever heard before… yet under the exact same breath it is one of the most approachable and catchy pop singles to come from the incredible Beach Boy catalogue.
Marty Robbins (1959): Elizabeth Mead (piano, organ, vocals), Neil Goss (Mammoth Life Apparel founder & clothing designer) and I grew up together in Pratt, a small town out in Western Kansas. While there, she introduced me to her great uncle, George Wallace, who has played Fender Bass in and out of different Western swing groups over the past 50 years. I used to spend a lot of time with him exploring his vast catalogue of country and western music, i.e. Speedy West and Jimmy Bryant, Chet Atkins, Lefty Frizzell, Tex Williams & His Western Caravan, among many others. The album that stands out to me most was the 1959 Marty Robbins LP titled "Gunfighter Ballads and Trail Songs." Combining layered male vocal harmonies along with the musical backbone of a striding western "box guitar," the album was unified by a loose theme of not only similar-sounding backing tracks, but lyrical content as well. This cohesive musical and lyrical concept album, along with Brian's lost 1967 SMILE recordings, had a major guiding force and influence for Mammoth Life's spaghetti-pop, western opus titled "An American Movement."
DEVO (1978 – 1981): The Mammoth Life Apparel visual aesthetic owes greatly to two artists, the first of which is the incomparable Nudie Cohn, who is responsible for the flashy country-tinged uniforms worn by Rose & The Maddox Brothers, Buck Owens & The Buckaroos, and Gram Parsons. The second is the incredibly unique art-pop project known as DEVO. Not only was their look inspiring, but so was their lyric content. DEVO had something to say in each of their songs, unlike many of their contemporaries at that time, from the can-do American philosophy of "Whip It" to the conversationalist undertones of "Duty Now For The Future." DEVO is every bit as important to me as David Byrne's work with the Talking Heads.
Ennio Morricone (1966): This is the pioneer of the sound that we all define as "spaghetti western" music. Of course he is known for many other experimental sounds in many different respective genres, but it is his work done with the 1966 Sergio Leone film The Good, the Bad and the Ugly that we take so much influence from. His control and precision as a composer is unrivaled and unmatched in my personal opinion.