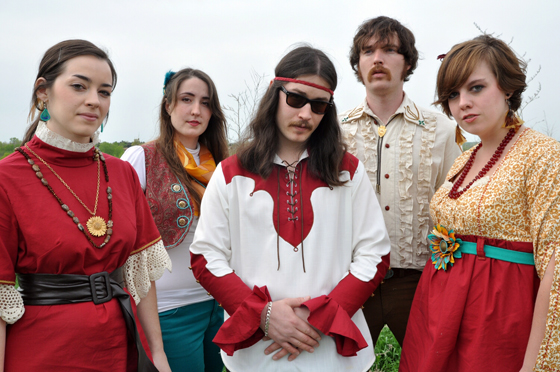 New bands can take a while to warm up to, but the art pop of Mammoth Life is instantly endearing. Resting somewhere between pop and folk, the Lawrence, Kansas band's bouncy sound is sugary yet rugged, equally suited for dancing or riding a horse.
In addition to their musical prowess, Mammoth Life have an eye for style. They've got their own clothing line — aptly named Mammoth Life Apparel — and they recently released a seven-inch called Enlightenment: A Romantic Gospel on fancy, transparent blue vinyl. The gorgeous record is individually numbered to 250 copies.
You can snatch up a copy on Friday, June 2nd, when the band brings its catchy melodies and Midwestern charm to the Soda Bar. The Hot Moon and Flying Objects will be joining them, so don't miss it.
Band leader/box guitarist/producer Nicholas Goss was kind enough to share his Poetic Memory with us, which you can find below. Continue reading…