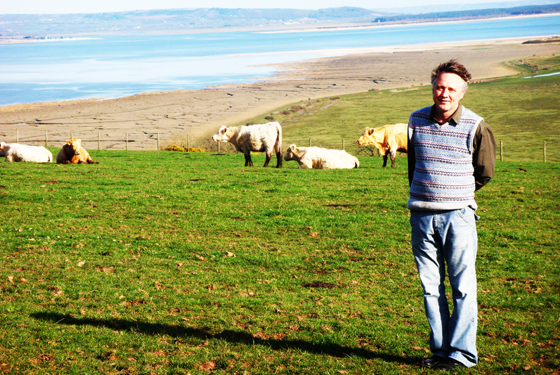 Mark Olson co-founded The Jayhawks with Gary Louris back in 1985, and even though he split from the band 10 years into its 25-year existence, he left an indelible mark on one of the first great alt-country bands — and on lots of great bands that followed in the Jayhawks' footsteps.
Olson hasn't stopped working, either. Between 1995 and today, Olson has released seven albums with The Original Harmony Ridge Creekdippers, a celebrated 2008 reunion album with Gary Louris called Ready For The Flood, and (soon to be) two solo albums.
Olson will release Many Colored Kite, his second solo album, on July 27. The album was produced by Beau Raymond (engineer for Devendra Banhart) and features collaborations with Jolie Holland, Vashti Bunyan, and Neal Casal of Ryan Adams' band the Cardinals. For a sample, check out "Little Bird of Freedom" (MP3), the Jolie Holland-collaborated first single from the album.
In anticipation of Many Colored Kite, we asked Mr. Olsen to send us a list of his influences. He obliged, and even though it's not exactly a list, it's still awesome.
Tony Glover is a real cool cat! Twice I asked him to write liner notes for an album I was on, and twice he did just that. I had a conversation with him the second time, and I think that's the only time I've ever spoken with him for any length in the 25 years that I have known him.
Strange that he was there, silent at the back of a grimy bar, and gave me my first big break as a musician one day way back when. I walked in and asked the bartender if The Jayhawks could play at the 400 Bar (in Minneapolis). It was late afternoon and daytime drinking was unknown to me then. I think the barman was about to laugh at me when Tony just simply nodded, so they let me in.
Since I was performing in the neighborhood, I decided to check out some of the other local establishments. What I found were musicians that had played with Bonnie Raitt, Bob Dylan, and many bluesmen. They had a lingo, and apartments were called "cribs." I hung out there a number of years but never really spoke to any of them. I listened to them play, and I suppose I was looking for some measure of respect, which I never got.
It was dark and it was mean, but through the dim light I observed something about them: commitment — total involvement in something you believed in. I don't want to speak for them and tell you for them what they had in their hearts, but they were up to something. And whatever it was kept going to all hours of the morning, day and night. They never complained one bit about anything; they just coolly walked past and started playing, and then went back to the involvement that had lured them in.
Speaking of lures, they closed the most notorious nightspot on the strip with a sign saying "gone fishing." I'd like to go fishing sometime, and I hope each and every one of those cats got a chance to do just that with their families and friends. The blues are mean and it's no place for a young man…
Mark Olson tour dates
Aug 27, 2010 – McCabe's Guitar Shop – Santa Monica, CA
Sep 7, 2010 – Cafe Du Nord – San Francisco, CA
Sep 9, 2010 – Mississippi Studios – Portland, OR
Sep 10, 2010 – Triple Door – Seattle, WA
Sep 11, 2010 – Green Frog Caf? Acoustic Tavern – Bellingham, WA
Sep 12, 2010 – Varsity Theater – Minneapolis, MN
Sep 14, 2010 – Pizza Luce – Duluth, MN
Sep 15, 2010 – High Noon Saloon – Madison, WI
Sep 16, 2010 – Club Garibaldi – Milwaukee, WI
Sep 17, 2010 – Schubas – Chicago, IL
Sep 18, 2010 – The Rudyard Kipling – Louisville, KY
Sep 19, 2010 – The Old Rockhouse – St Louis, MO
Sep 21, 2010 – NightCat – Easton, MD
Sep 22, 2010 – World Cafe Live – Philadelphia, PA
Sep 23, 2010 – Jammin' Java – Vienna, VA
Sep 24, 2010 – M.E.A.N.Y. Fest at Joe's Pub – New York, NY
Sep 25, 2010 – Iron Horse – Northampton, MA
Sep 27, 2010 – One Longfellow Square – Portland, ME
Sep 28, 2010 – Wildfire Bistro – Ithaca, NY
Sep 29, 2010 – The Rock Shop – Brooklyn, NY