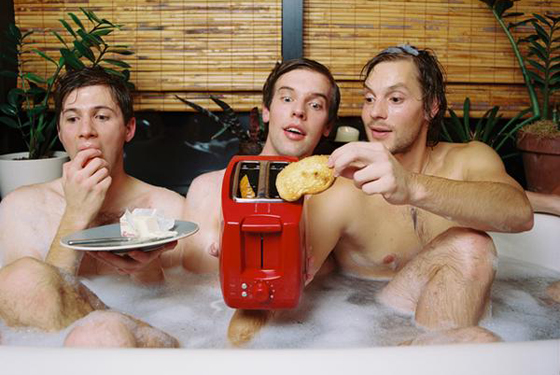 The last time Menomena played the Casbah, drummer Danny Seim cut his hand open on his drum set, then proceeded to wipe the blood all over his face like ghastly warpaint.
A moment like that leaves an impression, but even without it, the night would have been memorable. The quirky trio's performances are so intense and spirited that the blood flying onstage pales in comparison to the blood rushing through the crowd's veins.
The Portland, Oregon band will set San Diegan hearts racing again on Friday, September 17 when they return to the Casbah. Menomena are currently touring in support of their latest album, Mines, which finds them pivoting from their experimental leanings to a more structured, accessible sound.
Despite the band's newfound restraint, fans of their excellent albums I Am the Fun Blame Monster! and Friend and Foe will still find plenty to love. Songs like "Queen Black Acid" and "Dirty Cartoons" contain all the majestic sweep and eccentricity of those earlier albums, anchored as always by the band's mournful, disembodied vocals.
The upcoming Casbah show's lineup is an exceptionally solid one. Portland's Tu Fawning will get the night started with their rhythmic, ambient rock and breathy vocals, and the Brooklyn-based Suckers will get your toes tapping with their dance-heavy new wave.
This is easily one of the month's best shows, so don't miss your chance to buy tickets before it sells out. And, just in case Menomena rock so hard they shed blood again, anyone planning on standing in the splash zone is advised to bring a raincoat.
UPDATE: Menomena will also perform a guest DJ Set at M-Theory Records at 7pm the same night as the Casbah show (September 17).