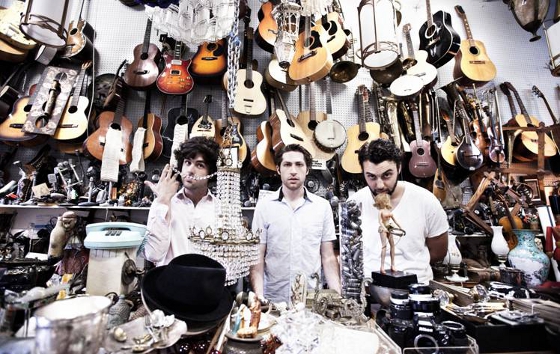 MP3: Mini Mansions Daytrotter Session
LA's Mini Mansions, the side project of Queens of the Stone Age bassist Michael Shuman, will play the Tin Can Alehouse on Monday, November 29th.
The trio released its self-titled debut earlier this month on QOTSA front man Joshua Homme's Rekords Rekords label, and it's truly a stunning piece of work. The record fuses elements of Grizzly Bear's psych-pop with Mike Patton's sinister, cinematic tones, resulting in one of the year's strongest and strangest releases.
With its stormy guitars and thundering piano, the album is a tempestuous affair, but also a relentlessly poppy one. The darkness is constantly tempered by Mini Mansions' sunny vocals, and the resulting tension is as captivating on the twentieth listen as it is on the first. Fans of The Beatles in particular will find much to love in the band's lush harmonies and elegant hooks.
Mini Mansions have until now flown under the radar, but it's only a matter of time before people catch on. Until that happens, we can savor the opportunity to experience them in an intimate setting like the Tin Can. And just in case the Tin Can isn't intimate enough for you, the band will also be doing a free in-store performance at M-Theory Records earlier that evening. For a taste of what to expect from the shows, check out the bizarre, nightmarish video for "Kiddie Hypnogogia" below.
Mini Mansions tour dates
November 29 San Diego, CA M-Theory In-Store Performance 6:00pm
November 29 San Diego, CA Tin Can Alehouse 9:00pm
November 30 Tempe, AZ Yucca Tap Room
December 1 Tucson, AZ The Hangart
December 2 Santa Fe, NM The Underground
December 3 Colorado Springs, Co Triple Nickel Tavern
December 4 Denver, CO Moe's
December 5 Ft. Collins, Co Surfside 7
December 7 Chicago, IL Subterranean
December 8 Milwaukee, WI Mad Planet
December 9 Madison, WI The Project Lodge
December 10 Minneapolis, MN 400 Bar
December 11 Rock Island, IL Ribco
December 12 Des Moines, IA Vaudeville Mews
December 13 Oklahoma City, OK The Conservatory
December 14 Dallas, TX The Nightmare
December 15 Houston, TX Walters on Washington
December 16 Austin, TX Emo's
December 17 El Paso, TX TBA