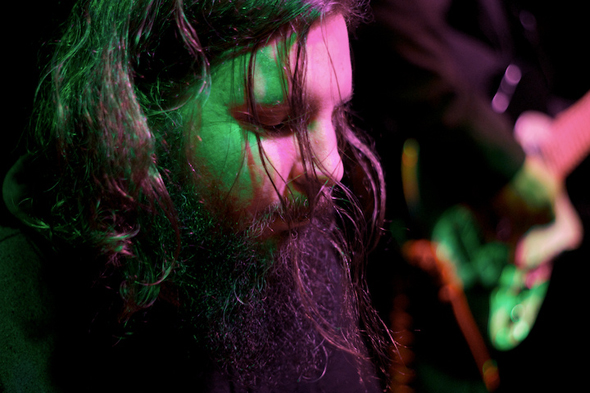 A huge crowd crammed into the Soda Bar on Tuesday night to bask in the darkness of local favorites The Black Heart Procession.
The presence of Pall Jenkins and crew would be enough to fill the venue any old time, but this show — presented by Requiemme Management — boasted three solid opening acts. First, Gun Runner warmed up the crowd with their energetic indie rock, then The Hot Moon — which features two members of The Black Heart Procession and Grand Ole Party's John Paul Labno — upped the ante with their urgent, genre-bending pop.
Next, Maren Parusel took to the stage, fresh off the release of her debut album, Artificial Gardens. Parusel and her band performed various dark but catchy pop tunes for the crowd before hopping in their van and commencing a cringe-inducing 25-hour drive to SxSW in Austin. While they're out there, multi-tasking drummer Eric Brozgold is blogging their Texan trip for us.
Finally, it was The Black Heart Procession's turn to play, and their understated, moody ballads stood in stark contrast to the vocal, giddy enthusiasm of the crowd. Jenkins, nearly unrecognizable after shaving his trademark mane, crooned over his band of ringers' tightly executed riffs and rhythms. It was every bit as good a performance as San Diego has come to expect from The Black Heart Procession, made all the more special by the talent of the groups that preceded them.
Photos – The Black Heart Procession at Soda Bar – March 15, 2011

Photos – Maren Parusel at Soda Bar – March 15, 2011

Photos – The Hot Moon at Soda Bar – March 15, 2011