My name is Eric Brozgold. I play drums in Maren Parusel. Throughout our trip to SXSW this week, I'll be filling you in on our daily activities, shows, and whatever else that seems interesting!
March 16 at 3:05 AM: Right now it's 3:05am. We just finished packing after a great show at the Soda Bar with Gun Runner, The Hot Moon, and The Black Heart Procession. Now, we've got a nice 24-hour drive ahead of us to Austin. The van is packed to the ceiling with gear and luggage. I don't think we could fit one more piece of equipment in here! Our new van is great, though, and we couldn't be happier with it. Here's a picture of it. Until next time…
March 16 at 2:41 PM: It's 2:30 in New Mexico. Just stopped for lunch. We've got about 14 hours to go until we arrive. We pretty much saw an episode of Border Wars play out in real life last night as we drive through the mountains. About 30 Border Patrol trucks were parked on the shoulder and the agents were walking around with their flashlights. Now it's just desert and the occasional truckstop. Good drive so far!
March 16 at 10:39 PM: Driving into the night. Four or five hours to go now. We're prepping some demo CDs we had made for this trip. First show is tomorrow! Trumer Pils Afternoon Social at Klub Krucial: 416 E 6th St. We go on at 4pm. Load in is at 10, so we'll have a few hours to get our bearings and stretch our legs, and hopefully get our hands on some good Texas BBQ! Excited to see some familiar faces and meet some new friends as well.
March 17 at 11:47 AM: Just got to Klub Krucial. Setting up the backline and grabbing some coffee. Show starts at noon so it's crunch time. Good day for some great music!
March 17 at 12:56 PM: Just checked in at the convention center. Grabbed some stuff from the artists' lounge. Starting to pick up around here. Time to get ready for the show.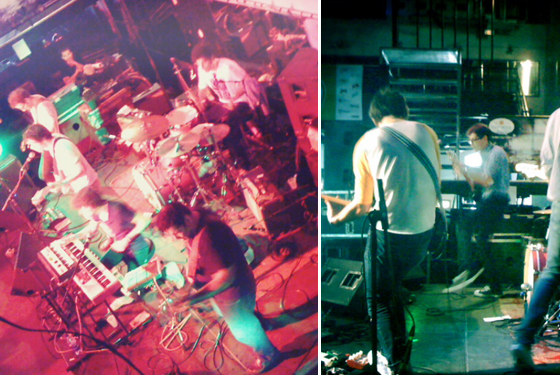 March 17 at 5:54 PM: We just wrapped up our first SXSW show. Thanks to everyone who came out. All of the bands were great. We were happy to meet Tahiti 80, The Living Things, and Lonely Forest. Time to grab a bite to eat. Then out to promote the next show tomorrow at the Aquarium.
March 18 at 12:38 PM: And so begins day two in Austin. We had a crazy night last night, with hotels being sold out from under us and trying to find some rooms for some of the bands. But we all got a good night's sleep and are ready for the day. Set up the backline here at The Aquarium. Today's show is put on by Bar Pink and the Casbah. Set time is 3:45, so we have some time to kill. Another great lineup today with the Fling, Gun Runner, Black Heart, the Biters and Jesse Malin. Here's to day 2.
March 18 at 5:54 PM: About to start the American Apparel fashion show. Got a lot of cool gifts and our hair done. Then we have to run back to the venue to load our gear back up from the show today. The Aquarium was awesome. Great crowd and a great venue.
March 19 at 1:37 AM: Just wrapped up day two. We had another great show and are looking forward to a busy day tomorrow. After the fashion show, we had to rush back to load all of our gear back in the van. This is a difficult task because everywhere that you need to be to load/unload is closed off. You have to creep by the barricades and make a dash for an alley before the guards can catch up to you. After the illegal load in, some of us went to watch Alejandro Escovedo and his band play. We all met back up at the Saint Cecilia Hotel for an afterparty. Were honored to be playing Alejandro's show tomorrow at Maria's Taco Express. We don't play until 5pm, but during the day we have an interview scheduled where we will be sharing our experiences from this past week. Goodnight from Austin.
March 19 at 9:32 AM: Beginning of day three. We've lost our writer and our bass player. They did not make it home. Last we saw them, they were still on 6th street enjoying the festivities around midnight. We have to be at the interview in a couple hours. Maybe we'll go check the lost and found…
March 19 at 1:08 PM: Hanging out at a photo shoot with Texas Terri. She has a new album: Your Lips…My Ass. Got some pizza and about to do the interview for the Sully Sullivan photo shoot. Then headed to Marias Taco Express to play a gig for Alejandro Escovedo's Taco Party.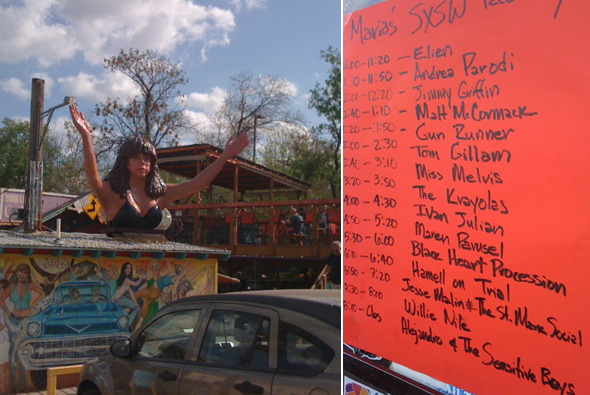 March 19 at 4:17 PM: About to go on at Alejandro's Taco Party. We came straight from the photo shoot. Had to make a pit stop and grab a new bass head for the kick drum. It broke at yesterday's show. Found a cool drum shop at the end of this dead end street called Tommy's Drum Shop. Could have stayed in there for hours! Maybe next time.
March 20 at 4:20 AM: Tonight was great! We played the Requiemme showcase at Maggie Mae's Gibson Room. There was a great turnout and the everything ran smoothly. Load out was a little rough because the cops wouldn't let us pull the van next to the club, so we parked it in a cross walk and loaded up there. We all went and got a bit to eat and are now going to sleep. It's 4:16 and we have to leave the house by 8:30 tomorrow morning for a radio interview. More on that tomorrow.
March 20 at 10:27 AM: Just finished our radio interview on KUT 90.5fm with Dave Marsh. We got to talk about Maren's background and a little about the new record. Being one of my first radio shows, I didn't say much on air. Maren handled most of the interview and did a great job. It was a very comfortable environment and we were happy to have been invited.
March 21 at 2:38 PM: Just finished up our set at the Continental, which means we are officially done with SXSW 2011. What an amazing trip! We had some great shows with amazing bands. We were very happy to meet Jesse, Johnny and all the guys in the Saint Marks Social. The Black Heart Procession had an interesting start to their trip, but they were pros and had some incredible shows. We were honored to open for Alejandro Escovedo and the Sensitive Boys tonight. What an incredible performance. Now we begin out long journey home. Time to hit the road!
March 22 at 9:06 PM: So we blew a spark plug on the way home! We were in Casa Grande, Arizona — about 300 miles from San Diego. Luckily, Kyle has AAA and we were towed in about 20 minutes. It was about 5PM, so the repair shop was closed for the night. We got a room at the Motel 6 and had the pizza party that we've been talking about. When we got up this morning, we were told that the mechanic wasn't able to fix the engine, and it had to be towed to the dealer. After another tow and a few hours of work on the car, we got back on the road just about the same time we broke down the night before. We just arrived in California and are almost home. This will be a very memorable SXSW, and thanks to everyone in Casa Grande for helping us get home.