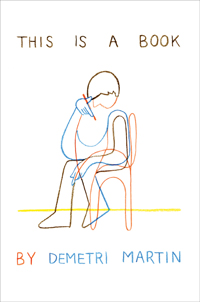 When it comes to presentation, comedian Demetri Martin is straightforward. He released an album showcasing his jokes called These Are Jokes, a DVD starring himself called Demetri Martin. Person. and, during his Comedy Central show Important Things with Demetri Martin, a song could be heard before sketches that included the lyrics "This is a sketch." And so it is with his debut book, This Is a Book by Demetri Martin, which, as the title suggests, is a book by Demetri Martin.
The book — divided into four parts, though none of them differ from the others in any discernible way — could have been many things: a memoir, a transcription of stage jokes, a collection of annotated tax-deductible receipts. But it's all comedy in various forms, and that's a good thing. Martin's brew of bizarre, clever, and generally cheerful humor works so well on stage and screen, and there's always the risk that it wouldn't translate to the printed page. Fortunately, we're in the clear, and there are a lot of notable pieces.
To point out a few: "Fruit Vendor (Diary Excerpts)" shares the personal thoughts, travails, and hazards of a guy who owns a fruit stand. "Sheila" is a great short story about the risks and rewards of otherworldly dating. In "We're Pregnant," the reader gets one half of an expecting couple's account of the joys and complications of a pregnancy that must insistently and at times begrudgingly be referred to in the first person plural. Martin executes each premise to absurd and rewarding effect.
The book also includes dozens of Martin's trademark charts and drawings, some of which will be recognized from other projects by stalwart fans. With the humor firmly in place ("Ventriloquist Funeral" being among the best), the only thing lost in the illustrations is that the reader doesn't have the chance to witness the ambidextrous Martin complete a drawing with both hands working markers simultaneously. But this is a book, after all, and Martin's been nothing but upfront about that.
Throughout the book are some blank pages, which are generally used in books to divide parts or chapters, and This Is a Book uses them for this purpose, but not exclusively. Martin takes advantage of some of these normally inkless pages and puts jokes on them, like "This page is unnecessary," which would be true in most cases, but because there's now a joke, it makes the page necessary and, thus, a paradox.
Martin performs some showy comedic gymnastics in a few pieces, notable for their ability to dramatically extend a premise without jettisoning humor. In "Palindromes for Specific Occasions," after ten perfectly fine palindromes, Martin delivers a coherent and entertainingly epic palindroem (that's not a typo, Martin combines the words palindrome and poem to create the portmanteau), which, at around 500 words, is more than twice as long as another of Martin's epic palindroems (again, not a typo) that drifted around the Internet a couple of years ago.
In "A Crossword Puzzle," furthermore, Martin gives the reader a filled-in crossword puzzle, every playable space containing an "A," which on its own is funny, but it's not until winding one's way through the 172 clues that complete the puzzle that the acrobatic absurdity is fully developed.
This Is a Book is a strong debut from Demetri Martin. The comedian manages to accomplish a difficult feat by packing the book to the brim with wit while steering clear of any sense of arrogance. Heady without being alienating or aggravating is a tricky combination, and Martin pulls it off with ease.