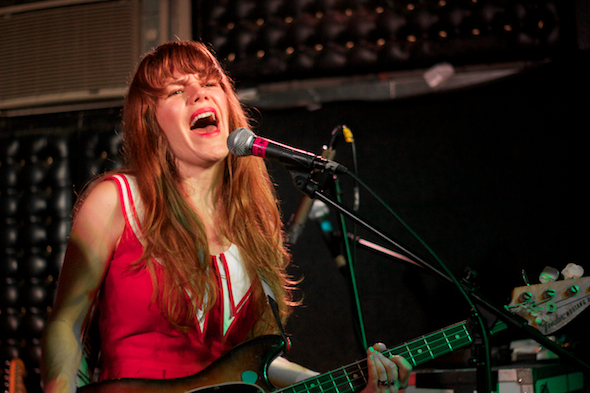 For fans of redheaded female musicians with bangs, Friday was a good night to be at the Casbah.
First, Kickball Katy Goodman brought her side project La Sera to the venue just one month after playing there with Vivian Girls. Goodman and Co. breezed through a set of 2-minute ditties from their self-titled debut, released earlier this year. Songs like the catchy "Never Come Around" and the driving "Devils Hearts Grow Gold" were pleasant enough, but La Sera's polite, medium-energy set never got out of third gear.
Energy wasn't a problem for Jenny & Johnny, who mesmerized the sold-out crowd with their country-tinged rock. Jenny Lewis and Jonathan Rice took the title of their debut album, I'm Having Fun Now, to heart, playing songs like "Scissor Runner," "Big Wave," and "Animal" with grinning enthusiasm and relaxed confidence.
The set wasn't all upbeat, though — Jenny & Johnny proved they also know their way around a ballad. Set highlight "Switchblade" had the crowd singing along to its tender chorus, and a night-capping, acoustic version of "Silver Lining" — off Rilo Kiley's Under the Blacklight album — brought tears to the visibly moved Lewis' eyes. Jenny & Johnny may have started their band for fun, but on Friday they treated the Casbah to something much deeper than a good time.
Photos – Jenny & Johnny at the Casbah – June 10, 2011

Photos – La Sera at the Casbah – June 10, 2011