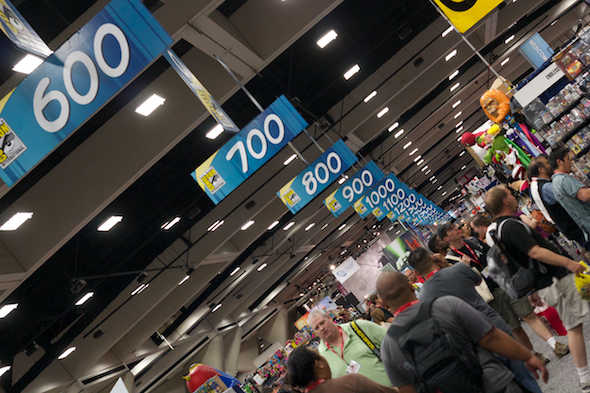 Comic-Con is overwhelming. As the convention slowly creeps out into surrounding hotel ballrooms, parking lots, and taco trucks, finding the right events panels can be like looking for a needle in a haystack (if that haystack was also filled with steampunk goggles, overpriced soft pretzels, and Nathan Fillion). But don't worry –- Owl and Bear has got you covered. The following is our expertly curated list of panels both large and small at Comic-Con 2011.
All listings are accompanied by a rating from the highly scientific and peer-reviewed Owl and Bear Clusterfuck Scaleâ"¢, which estimates how impossibly crowded any given panel will be. A factor of 1 means you can waltz right in. A factor of 10 means that even after waiting in line for several hours to get a ticket to see the event, you might be able to watch it on a projected screen…if you're lucky. We've tried our best to provide listings from both sides of the spectrum.
Thursday
1:15-1:45pm – A One on One with Pee-wee Herman: If you weren't too traumatized by the clown dream sequence in Pee-wee's Big Adventure, come to this panel, where Paul Rubens will discuss his recent Emmy–nominated HBO special, "The Pee-wee Herman Show on Broadway." We might also get an update on a Pee-wee feature in the works with Judd Apatow. Hall H
Clusterfuck factor: 7
4:00-5:00pm – Archer Screening Q & A: If you haven't had the pleasure of watching the brash and blundering animated spy, Sterling Archer, then now's the perfect time! Advanced copies of Archer: Season Two will also be available at Twentieth Century Fox Booth #4313. Indigo Ballroom, Hilton San Diego Bayfront
Clusterfuck factor: 5
7:00-8:00pm – History of the Modern Zombie: After the Comic-Con floor closes, head upstairs and pick the delicious brains of the world's foremost scholars of Zombie studies. See your tax dollars at work with neuroscientist Bradley Voytek (Ph.D, University of California, Berkeley) as well as the acclaimed author of World War Z and Zombie Survival Guide, Max Brooks. Room 7AB
Clusterfuck factor: 3
Thing to Avoid
5:30-7:30pm – Showtime: Tired of Ordinary Television?: We like William H. Macy as much as the next blog, but panel will most likely be overrun by rabid Dexter fans trying to get a piece of the soon-to-be-divorced Michael C. Hall. Unless you count yourself in this category, skip this one. Ballroom 20
Friday
10:15-11:15am – Epix Pictures: The Captains: Apparently unsatisfied with his life as the Priceline Negotiator, William Shatner has moved on to the art of documentary. His new film The Captains is a collection of interviews of actors (and one actress!) who formerly played Star Trek captains. Avery Brooks will also be there, which is great, because we all know Sisko was a way better captain than Kirk (we all know that, right?). Room 6BCF
Clusterfuck factor: 9
11:45am-12:45pm – Adult Swim: The Venture Bros.: A Comic-Con favorite, this panel will feature an early premiere of The Venture Bros. Special – From the Ladle to the Grave: The Story of Shallow Gravy. Show creators Jackson Publick and Doc Hammer will also be on hand to answer questions. Indigo Ballroom, Hilton San Diego Bayfront
Clusterfuck factor: 8
9:00-10:00pm – Worst Cartoons Ever: Animation historian Jerry Beck is a man who knows his toons, and each year he sifts through the cartoon dump to bring us the worst cartoons ever made. Come see the unscripted voiceovers in The Adventures of Paddy the Pelican and the awkward exercise routines in Mighty Mister Titan. Room 6BCF
Clusterfuck factor: 6
Thing to Avoid
Hall H: With Steven Spielberg and Peter Jackson both promoting The Adventures of Tin-Tin and Edgar Wright promoting Attack the Block, as well as celebrities like Colin Farrell, Nicolas Cage, Nick Swardson, Kate Beckinsdale, and Jessica Biel all in attendance, Hall H is going to be a beautiful nightmare on Friday. If you do go, bring some sunscreen and water, because you're going to be standing outside in line for a lonnnnnnnng time.
Saturday
11:45am-1pm – Quick Draw!: A coterie of lightning-quick cartoonists from The Simpsons, Futurama, and MAD Magazine get together for some fast drawing fun. Room 6BCF
Clusterfuck factor: 2
12:15-1:45pm – Futurama/The Simpsons: Matt Groening will be on-hand to answer your questions on his two primetime animated masterpieces. Note: These panels will get busy, but if you don't make it into the first one, you can probably sneak into the later one (though count on a couple hundred fans having the same idea). Ballroom 20
Clusterfuck factor: 10
4:00pm – South Park Fan Experience Costume Contest: Celebrating the show's 15-year anniversary, the folks at South Park have put together a huge event just outside the con. The costume contest is at 4 on Saturday, but be sure to set aside time to ride the South Park school bus, create a South Park avatar, and grab some cheesy poofs at the cafeteria. 450 2ND Avenue (At 1st Avenue & J Street)
Clusterfuck factor: 4
Sunday
10:00-11:00am – Axe Cop: An axe-wielding police officer that rides a T-Rex with machine guns for arms –- what's not to love? From the pen of Ethan Nicolle and the mind of his 7-year-old brother, Malachai, the webcomic Axe Cop provides an endless supply of LOLs. Both Ethan and Malachai will be on hand for this panel, moderated by MST3K's Kevin Murphy. Room 6DE
Clusterfuck factor: 5
11:45am-12:45pm – One-on-One with Castle Star Nathan Fillion: See? We told you there was Nathan Fillion. Room 6BCF
Clusterfuck factor: 7
2:45-3:30pm – It's Always Sunny in Philadelphia: The cast of the show is going to be there, so cross your fingers that all the Doctor Who fans vacate Hall H and go home early. Hall H
Clusterfuck factor: 8
If these picks aren't your cup of Jestral tea, check out the Comic-Con programming guide.