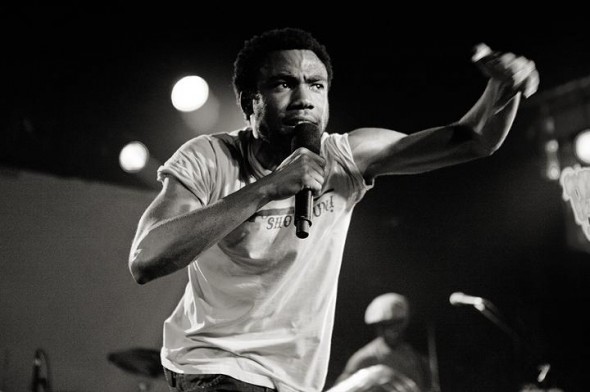 Thanks to the annual pop culture invasion known as Comic-Con, San Diego was once again transformed into a star-studded, Storm Trooper-packed red carpet last week. (On what other weekend could you observe a steampunk couple enjoying a romantic sushi date and discussing how little they use technology?)
Amidst all the glittery parties, free swag, Indigo Ballroom panels, and streets crowded with Batmans, Jokers, and a couple of Deadmau5'ses (How on earth do you properly punctuate that?), Donald Glover's musical "side chick" Childish Gambino took to the stage at House of Blues to prove he's more than "pretty good for a rapper who's on a TV show."
The crowd got warmed up with a spin-set from the adorable DJ SoSuperSam who spun tracks from Jay-Z, Kanye West, and many more to get the crowd on their feet in anticipation for Gambino. Keeping in line with the "star-studded" theme of Comic-Con, I was able to take a look at the packed green room from my stage-left vantage point, where I saw the whole cast of Community having drinks and getting ready to cheer on their cast mate.
Glover took to the stage in a tee from the Cartoon Network show Adventuretime and his signature Rod Laver Adidas. "Welcome to the Cul-de-Sac," he rapped to open the show. With endless energy, Glover sang and rapped over beats produced by a full live band. Glover's backing band was as entertaining as he was — using tamborines, synthesizers, drums, and drumsticks on heads, the band made for an amazing and fun live experience.
It was impossible to be impervious to Childish Gambino's overflowing "swag" in the audience. Glover's pop culture-laden lyrics and flawless delivery were even more entertaining on stage, where he was given full opportunity to show his enthusiasm and dedication to his music. Glover was an unstoppable force as he performed an array of tracks from his musical résumé such as his blogosphere smash remix of Adele's "Rolling in the Deep," and every track from his EP.
At the show, Glover revealed the reason for his recent absence from Tweeting and Tumbling was due to his work on a full-length LP, officially announced on July 25th with the title Camp. Glover world-premiered an awesome new track from the album, which included Comic-Con-appropriate references such as Gir from Invader Zim and elicited wild screams from the audience.
Glover and his band looked like they were having just as much fun as the crowd. The group took whiskey shots on stage from clear plastic cups and created inventive ways to use their instruments. Glover got a cardio workout from running all over the stage, giving fans a chance to exchange fist bumps and high fives with him. The Community cast unfortunately didn't join him to dance to "Lights Turned On," but Glover was awesome enough to make one forget he was even on a TV show. It's evident through his performance that he and his "side chick" music have definitely moved in together, and it's going very, very well.