The Twilight panel had already begun, but there was no line to get into Hall H. Something seemed amiss.
When I got in, however, the series' major stars — Robert Pattinson, Kristin Stewart, and the guy who plays Jacob the werewolf — were doing what everyone expected them to do: talking about themselves. Maybe it's just because it's easy to hate Twilight, but during the Breaking Dawn panel, I had trouble breaking yawns.
Every audience member who asked questions heaped praise upon the actors, leading Stewart to comment on how everyone onstage was indeed "hot." The public perception of the Twilight belle is that she's kind of a dullard, and her performance at the panel only confirmed this notion. At one point, it took her five minutes to finally say "Band of Horses" in answer to a question about which song gets her "going on the morning." Clips were shown; girls squealed over shirtless Jacob; jokes were made about vampire sperm. At the end of the panel, an extremely large photographer basically crushed me while I was trying to take a cast photo. To his credit, he did say "sorry." To his discredit, he kept on crushing me.
Next came an animation showcase, which highlighted the film Arthur Christmas, a CGI holiday movie written by Peter Baynham. Known in the U.K. for his work on the genius Steve Coogan BBC show I'm Alan Partridge, as well as for Borat and Brüno, Baynham talked extensively about the logistics of delivering presents to billions of children. His dry British humor struggled to penetrate the thick American skulls, and many in the audience didn't seem to know whether he was serious or joking. Interestingly, when they showed a clip of this children's film, there was a noticeable lack of farting and belching. Jokes even seemed intelligent. Hugh Laurie is in it. Actually, it could be a decent movie.
After the kiddie segment came…another kind of kiddie segment: Pee-Wee Herman! Little was said about any of his upcoming projects, except that his proposed collaboration with Judd Apatow was being reviewed by studio higher-ups "at this very moment." Pee-Wee, a bit of an underdog since his 1991 lewdness arrest, basked in fan adoration, answering questions in his characteristic Pee-Wee sarcasm, and kept a lighthearted mood going throughout his time onstage.
Like many, I am nostalgic for the time before Pee-Wee's disgrace, a more innocent time. Pee-Wee himself seemed just the same as ever, if a little older. When asked how many gray suits he has, he said "hundreds…when I get one wet, I just toss it." While some openly hoped that he would ride his classic bicycle off-stage, he eventually just bounded and goofed off the stage like a normal human being.
Next came the FilmDistrict Studio Panel, set up to promote Don't Be Afraid of the Dark, Guillermo Del Toro's horror remake, and Drive, by Del Toro's Danish protege Nicolas Winding Refn.
Some of the big names mentioned in the official blurb — notably Katie Holmes — didn't show up. Needless to say, photographers were disappointed to be denied a chance to capture images of a Scientologist in the wild. Christina Hendricks and Ryan Gosling also didn't participate in the panel, which disappointed fans of well-endowed redheads and crack-smoking teachers (so, everyone). It was okay, though. While Guy Pearce, Carey Mulligan, Ron Perlman and Nicolas Winding Refn suffered the spotlight with dignity, the funny, profane ham for the camera Guillermo Del Toro kept things interesting.
Whether Del Toro's PG-13-rated horror film Don't Be Afraid of the Dark will be scary is TBD. Whether it contains an abundance of whispering basement dwellers is not up for debate. The film, starring Guy Pearce and Katie Holmes, looked like classic Guiellermo Del Toro.
Since Don't Be Afraid was also plugged last year, much of the focus was on Nicolas Winding Refn's Drive. The first American movie by Refn, Drive stars Gosling, Hendricks, Mulligan, and Perlman. The clips screened during the panel doubtless made many attendees morbidly curious, or at least nauseated. Based on the way Gosling goes Gallagher on the melon of a guy in an elevator, the film promises to be hyper-violent. As Gosling stomped on his enemy's head, the thumping quickly turned to cracking, and the cracking quickly turned to splatting. Literally everyone in the audience groaned when the camera panned over what appeared to be an exploded gallon-sized container of ketchup. Desired effect, achieved. The moderator, someone from Ain't it Cool News said that this scene was only the tip of the iceberg.
Finally, it was time for the 20th Century Fox showcase, about which no information had been made available. As the lights dimmed, Lost creator Damon Lindelof came onstage and introduced Charlize Theron. Let it be known that beautiful blondes are crowd-pleasers. (Who knew?) The pair was there to talk about Prometheus, Ridley Scott's upcoming Alien spinoff, and it's not an Alien spinoff, they swear.
Lindelof asked Theron what attracted her to Prometheus, and a deadpan Theron replied, "A large sum of money." Small awkwardness ensued, and then she launched into a rambling explanation of how working with Scott is a lifelong goal, or something. Lindelof then asked Theron about the script, and she said that it wasn't that good. People laughed a little. This was going well. At least it can be presumed that Theron was referring to the original script by Jon Spaihts, not the rewrite by Lindelof, who was sitting right next to her.
They showed some clips. There were tough-looking space travelers, cavernous sets covered in alien exoskeleton, flamethrowers, and retro space helmets. It's not a prequel to Alien, though. They promise. Lindelof and Theron told the audience that Scott was holed up filming in Iceland and unfortunately couldn't make Comic-Con. BUT THEN, Theron welcomed Sir Ridley Scott to the stage! Photographers pointed their cameras toward stage left, but nobody emerged from behind the curtain. Suddenly, a Prometheus-sized Ridley Scott appeared on the Jumbotron®. The photographers were disappointed, and I actually uttered a "haw haw" out loud. Things were said, but I was too busy taking photos of Ms. Theron. One thing I caught was that Scott tried to avoid using CGI as much as possible. I liked that part.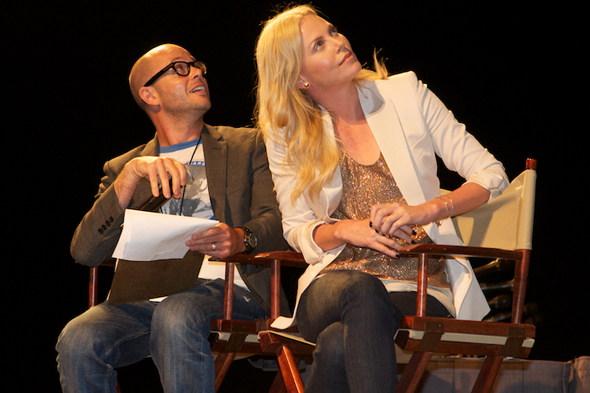 After the Prometheus preview, Andrew Niccol, writer of Gattica and The Truman Show, took the stage to show off his new film, In Time. The movie is set in a dystopian future where time is currency. In this world, everyone is allotted a certain amount of time to live, and a cup of coffee costs eight minutes. Everyone also has a tattoo on their arms of their time left alive, or, I think, the national debt clock. I'm not sure. Pete Campbell from Mad Men is the villain. Justin Timberlake and Amanda Seyfried were there to tell everyone about it, amid audience requests for an impromptu rendition of "Sexy Back."
The final segment was dedicated to Rise of the Planet of the Apes, which stars Andy Serkis (best known for playing Gollum and King Kong), James Franco, and John Lithgow. In this film, Serkis plays the CGI chimp, or, as Lindelof put it, "the Che Guevara" of the apes. Serkis' work was well done, as usual, and to my surprise, the CGI apes looked pretty good.
As for the movie itself? In the grand tradition of Planet of the Apes, I can only assume that it will be terrible. Serkis was cool, though. At one point, someone shouted "say 'My precious!'" and Serkis happily obliged.
Overall, it felt like a typical day in Hall H, though maybe light on big names. I walked out among the throng of slow-walking, funny-smelling attendees with a sense of time reasonably well spent.
Comic-Con 2011, Thursday