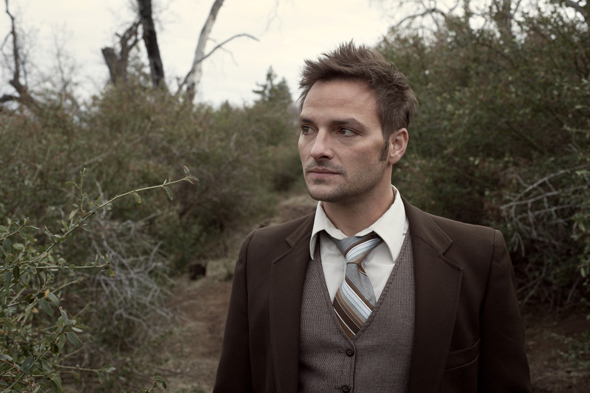 Two weeks ago, we premiered the first video from The Lament of Tumbleweed Hawk, the upcoming album by San Diego troubadour Jesse LaMonaca. This week, we're going to spotlight the man behind the music.
We first encountered the folk-rock musician at Anthology when he headlined a SoundDiego Live event last March. LaMonaca put on a great show — full of energy, soul, and a little bit of grit for good measure. (It didn't hurt that he closed the show with a cover of the Stones' "Dead Flowers".) Now, he has a new album, and he'll celebrate its release at the Casbah on February 18. Blackout Party, The Black Sands, and The Fire Eaters will support.
The Casbah show should be a great time, and in anticipation of the event, LaMonaca kindly sent us a Poetic Memory list. "It was an interesting exercise, this little introspective-retrospective," LaMonaca said. "Here is a list of some things that I found to be the most dominant influences in my life."
Poetic Memory: Jesse LaMonaca
http://youtu.be/HiVunqkZ1RM
1. The music I heard when I was young: This is perhaps the easiest influence to recognize as to why I ended up with this Americana Soul sound. My earliest memories of music are from my parents' record collection: Willie Nelson, Elvis Presley, Little Feat, Steely Dan, Kenny Rogers, etc. I remember late nights hearing my parents and their friends in the living room dancing to The Rolling Stones and the soundtrack from that movie The Commitments. I also remember sitting on the piano bench next to my Mamaw, listening to her play and sing old hymns, and then hearing those hymns in church on Sundays.
Our new album has a bit of all of these influences in it, including a gospel-flavored organ intro on "Don't Wanna Talk To Me" that we added on the spot in the studio. It's dedicated to my Mamaw, and I know she would get a kick out of it. "Whiskey River" by Willie Nelson is one of my all-time favorite songs; somehow it became the anthem for those treasured years.
2. Nature: I am happiest when I am in the woods. It's been that way since as long as I can remember. Being surrounded by all that natural order, beauty, and purpose provides me with peace and perspective, which in turn makes it possible to breathe and focus. It doesn't take long when walking in the woods to feel the layers of worry and stress and clutter being stripped away, and many times that's when I can start to connect the dots and explore lyric or song ideas.
3. Old Soul: If I had to pick one genre of music that speaks to me the most, it would be 1950's-60's soul, more Stax than Motown. There is something in the groove, the placement of the melody, the simplicity, the raw talent, the lyrical imagery; all of these things just resonate with me like no other music. Otis Redding, Sam and Dave, Joe Tex, Solomon Burke, Wilson Pickett, Willie Tee, Don Covay, Ray Charles… I could listen to these guys every day until the day I die and never get tired of it. Seriously, how can you get tired of Otis?!
4. Photography: Moments are what move me the most, especially the ones that remind me that I am not really in control. Both good and bad moments — ones of intense joy, catastrophe, love, pain, rejoicing, fear, remorse, reflection — are what life is really all about. And seeing those moments captured through the lens of a camera inspires me a great deal. There's a song called "Pretty Little Self" off of our debut album that I wrote after just sitting and staring at an old photograph. In fact, that album cover was a photo I took. For our new album, we were lucky enough to work with a professional and very talented photographer, Rebecca Joelson.
I also love looking at other people's photographs, whether they are professional or just one of my friends' Instagrams. I find it fascinating to get a glimpse into how other people see the world. My favorite thing to do with my free time is to take photos, and whether I am walking around San Diego or traveling abroad, it relaxes me. I see parallels in the visual and lyrical description of a moment, which I then try to implement into songwriting. I don't really know too much about the theory behind being a good photographer; I'm amateur at best, I just really enjoy it. Here is one of my favorites that I took in Paris over a decade ago along the River Seine (above).
5. My family: Everything I am I owe to them. They support me when I need it, shake me when I need it, and every single day they inspire me to be the best person I can be.