MP3: Theresa Andersson (with Peter Moren) – "What Comes Next"
At Owl and Bear, we've written about Theresa Andersson a lot. We've praised her inspired live performances, ogled her enchanting music videos, and marveled at footage from her live DVD. What with all that metaphorical ink we've spilled about the Swedish-born songwriter, it's safe to assume that we're big fans of hers.
That's why we're eagerly awaiting the release of her sophomore album, Street Parade, on April 24. The first single, "What Comes Next," (available for download above) is a stirring and evocative song that sounds like Björk conducting a New Orleans processional. Peter Bjorn and John's Peter Moren guests on the track, backing up Andersson's warm vocals and swirling harmonies with his own rich tenor. If the rest of Street Parade is as intoxicating and fully realized as "What Comes Next," we can't wait to hear what does come next.
In the meantime, we can distract ourselves with the list of influences Andersson was kind enough to provide. Her Poetic Memory is as varied and whimsical as her music, but what else would you expect from someone as gifted as Andersson. Did we mention we're fans of hers?
Theresa Andersson Poetic Memory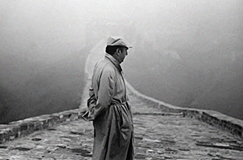 1. Pablo Neruda – The Captain's Verses:
"…and when you appear
all the rivers sound
in my body, bells
shake the sky,
and a hymn fills the world.
Only you and I,
only you and I, my love,
listen to it."
2. Duke Ellington: The song "On A Turquoise Cloud." Listen to the clarinet and voice together. It's love!
3. Irma Thomas: The song "Take a look" written by Allen Toussaint from the Sweet Soul Queen of New Orleans collection. I love this woman. Her voice is so direct and just melts me every time. Allen Toussaint's arrangements are gorgeous.
4. Wonderful Adventures of Nils Holgersson (originally Nils Holgerssons underbara resa) by Selma Lagerlöf: I read this as a kid (I think perhaps every Swedish kid did.) It 's basically a story about a boy who's disrespectful and mean. He gets shrunk by a tomte and ends up riding on the back of a farm goose from the south of Sweden to the north. By the end of the journey the boy has learned to be helpful to others and not be selfish. Because he proves that he has changed for the better, the tomte lets him get back to his normal size.
5. Scott Walker's album Walker 3: I came across this record while I was pregnant and writing Street Parade. I found it so beautiful and fluid. I used to listen to it at night sipping strawberry lemonade…
Theresa Andersson tour dates
4/14: Mobile, AL @ Callaghan's Irish Social Club
4/15: New Orleans, LA @ Woldenberg Park
(French Quarter Festival – Abita Stage, 2:15-3:45)
4/18: New Orleans, LA @ Lafayette Square (Free Show)
5/4: New Orleans, LA @ JAZZ FEST
5/5: New Orleans, LA @ Tipitina's
5/30: Vancouver, BC @ Media Club
5/31: Seattle, WA @ Triple Door
6/2: Portland, OR @ The Mission Theater
6/4: San Francisco, CA @ Swedish American Hall
6/7: Los Angeles, CA @ The Troubadour
6/14: Brookyn, NY @ The Bell House (w/ Lucius)
6/15: Philadelphia, PA @ Tin Angel (w/ Lucius)
6/16: Washington, DC @ The Hamilton (w/ Lucius)