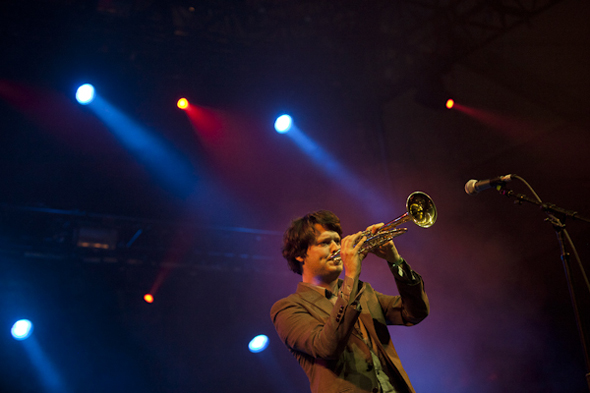 As the last rays of sunlight faded from the valley at Coachella on Sunday, electronic duo Justice appeared on the main stage, backed by their signature light-up cross.
The band's distorted beats and laser-gun synths quickly got the tired crowd to its feet, creating an instant dance party the likes of which is usually reserved for the Sahara tent. Little could actually be seen through all the smoke and strobes, and Justice could have just been playing their album on iTunes for all anybody knew. But if they were, the crowd didn't seem to care.
Beirut's organic set couldn't have been more different from Justice's. Backed by a five-piece band that included trumpet, trombone, and accordion, frontman Zach Condon had an affable, unpretentious stage presence, his eyes conveying age and wisdom from behind his youthful face.
Beginning with "The Shrew," Beirut unfurled a series of drunken ballads for the adoring crowd. A slowed-down version of "Elephant Gun" lacked the power of the recorded version, but songs like "Postcards From Italy" and "A Sunday Smile" soared, brimming with the bleary-eyed passion that makes the band's music so intoxicating. That Condon has succeeded in seducing a young California crowd with, of all things, Baltic music is no small feat indeed.
Next, Florence and the Machine began their set at the Outdoor stage, drawing a massive crowd that dwarfed the one from Radiohead's main-stage show the previous night. Florence Welch's vocals sounded every bit as powerful live as they do on record, and even the bros in the crowd sang along to her frilly songs.
But as on their sophomore album, Ceremonials, Florence and the Machine's music was bogged down by its lead-footed pretension. Decked out in long, flowing robes, Florence tried so hard to be uplifting and bombastic that she instead came across as manipulative and overwrought. Her talent and verve are undeniable, but some occasional moderation would be a welcome change of pace.
Coachella finally wound to a close with Dr. Dre and Snoop Dogg's highly anticipated set, which drew the weekend's biggest turnout. Backed by guest stars like Wiz Khalifa, Eminem, and a certain hologram, Dre and Snoop displayed an easy rapport and confidence.
Comprised of crowd-pleasers like Snoop Dogg's "Gin and Juice," Eminem's "Forgot About Dre," and even House of Pain's "Jump Around," Dre and Snoop's set felt like a greatest-hits retrospective of rap's last two decades. Tributes to fallen comrades Nate Dogg and Tupac only added to the nostalgic feel, and provided the festival with a strong and emotional finale.
Read our reviews of other 2012 Coachella performances
Noel Gallagher's High Flying Birds, Andrew Bird, Buzzcocks, and tUnE-yArDs
Jeff Mangum of Neutral Milk Hotel
Radiohead, Feist, and The Shins
The Hives and Gotye